If you're looking for the perfect, cute curls to wear on your hot date tonight, then we've got you covered with this tutorial for quick date night curls!
We've all been there, you spend a little bit too much time on your makeup, or you end up working later than you planned and now you have no time to get your hair ready for date night. 
There's no need to panic, you can still look fantastic, with a perfectly styled 'do' that just takes a few minutes. So, how do you create quick date night curls? 
How To Create Quick Date Night Curls
For these curls you'll need a curling iron and a hair tie to speed up the process.  So, get your curling iron ready and turn it on. Let's get started!
Step One
The first step is to gather all of your hair, grab it together and throw it over to make a ponytail at the front of your head. Use the hair-tie to make the ponytail.
Step Two
Next, part your ponytail where you would normally part your hair when it is down. For instance, if you have a middle parting, then take your ponytail and part it straight down the middle, splitting the hair into equal parts. On the other hand, if your parting is slightly to the left, then you need more hair on the right side of the ponytail, and vice versa. 
Step Three
Grab your curling iron, usually a one inch curling iron works best such as: Conair Double Ceramic 1-Inch Curling Iron With the curling iron, you want to wrap your hair away from the face, and curl the pieces of the ponytail. Repeat until all ends are curled! 
Step Four
Wait for your curls to cool and set, then once they are, you will need to remove the hair tie and let your hair down. Then, shake out the curls so that they aren't too tight, and comb hair loosely in case any pieces aren't where they should be.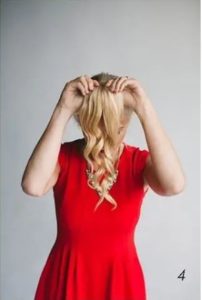 Step Five
Spray your hair with hold hair spray to lock it in place, and voila! You're ready to go. 
Summary
With this tutorial, you'll never go back to fussing with your hair again. It looks sleek, stylish and is absolutely effortless. The best part is that you're not limited to using this tutorial just for date night curls, you can style your hair like this for everyday looks, after dinner drinks, or even your next work event! It's just so easy to do!