If you're looking to plan your wedding, then you already know how much there is to think about! There's the venue, the wedding decor, the flowers, the cake, not to mention the dress and the suit. 
It can all start adding up pretty quickly, and getting on top of you. Luckily, with our guides, we can help you with some of the planning process, and give you lots of information and advice to help you plan the wedding of your dreams. 
If you're getting married in Florida, then you've picked the perfect place for it. Florida has got some glorious sunshine, and some wonderful venues and locations to tie the knot, from churches, to country houses and even Disney World to host your wedding! 
Despite being called the Sunshine State, there are times you will not want to get married in Florida due to increased rain during hurricane season. Fortunately, we are here to tell you when the best and worst months are to get married in Florida!
When Is Wedding Season In Florida?
Wedding season in Florida is basically any other time than Florida's hottest four months. During June to September, Florida will be at its absolute hottest temperature, and can get too hot for wearing a wedding dress all day. Couples who choose to get married during this period will want to ensure that it takes place indoors to avoid the extreme heat and humidity. 
In Florida, the peak months to get married are October, November and March, and the off season is considered June, July and August. It is so important that you are aware of the peak wedding season in Florida, because this can help you plan your day! 
If you are planning to get married during those peak times, and during the wedding season, then be prepared to scramble for vendors and bookings. If you want to get married during this time, then we recommend that you plan ahead in advance, because so many people want to get married during wedding season, that it can make it difficult to land bookings for the venue you want, the band you want, the photographer, caterer and everything in between! 
By thinking ahead, and planning in advance, you can have the first pick of vendors before everyone else can book them up. 
In other states in the US, the peak wedding season is actually June, July and August. This is not the case in Florida, and is our off peak because of the intense heat and humidity, along with the high likelihood of rain and thunderstorms. 
However, if you get married during the off season, you will find it much easier to book everything you want, and you can even plan things at the last minute because people aren't in such high demand. Prices can also be cheaper, so you can have your dream wedding on a more flexible budget. Just remember to book an indoor venue, and you should be good to go!  
What Is The Best Month To Get Married In Florida?
March is considered the best time to get married in Florida, as you have the perfect weather for outdoor weddings, such as beach weddings, and the sun is just glorious. There's also less of a chance of rain or thunderstorms, so you should be fine to have your dream wedding during this time. It's also not too hot, so there's no risk of sweaty groomsmen, crazy hair, or the bride passing out in her huge wedding dress! 
The only issue is…well it's the best month, so everyone wants to get married then! Make sure that you plan in advance, and book the wedding early. We recommend that for a March Florida wedding, you should plan at least a year in advance.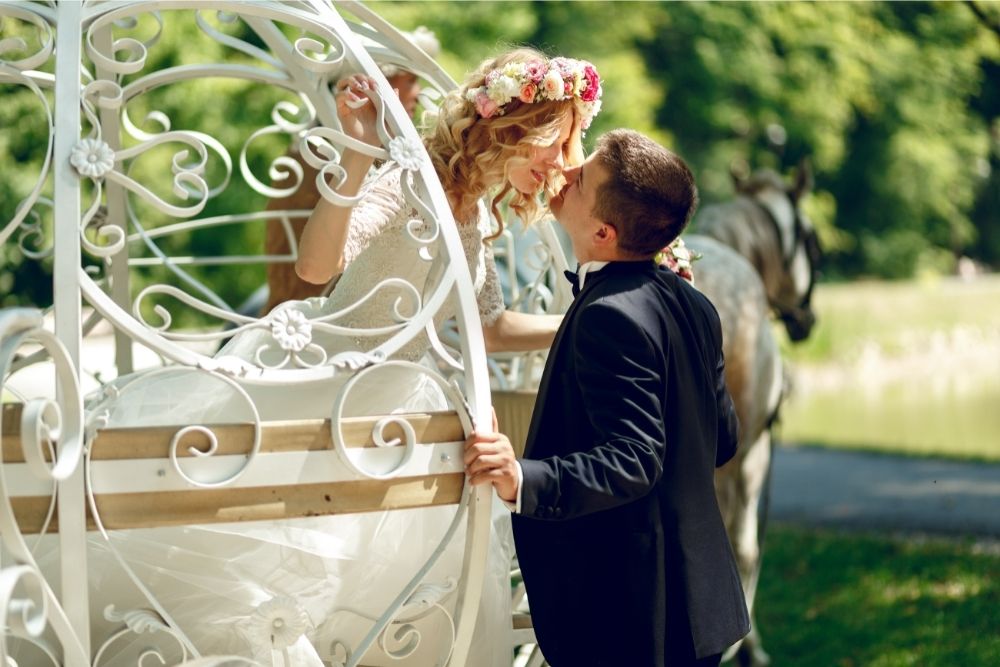 What Is The Worst Month To Get Married In Florida?
This depends on what kind of wedding you are going for. For many couples, getting married during the off season can be the best way to cut down costs, but if you're having an outdoor wedding during June or July in Florida, you're going to be so hot and bothered all day that you may not even enjoy yourself. 
Others may feel that September is the worst month for weddings in Florida, as around September 10th is the peak time for hurricane season, which can quickly ruin a wedding, especially if it is outdoors. 
What Is The Cheapest Month To Get Married In Florida?
For many people, getting married around holidays is the perfect choice. For instance, if you get married around Christmas, Halloween, or Valentines Day, you can have a themed wedding with matching decor, and you'll always remember your wedding day in the future when you celebrate those holidays.
As a result, the holidays are very popular wedding periods. February and December are some of the most in demand months to get hitched, due to the Christmas season and Valentine's Day on February 14th. 
So, if you want to avoid hiked up prices and overbooking, try to avoid those periods. The cheapest months to get married in Florida will be from June to September during the summer months. This is when vendors will be more readily available, and will have their lowest prices so that they can get more bookings! 
You can also look at booking weekday weddings as these are far cheaper than Saturday weddings! It can also be a way to trim down the guest list if it's getting out of control, as many will not be able to make it due to work commitments, so it's a win-win! 
Summary
To summarize, the peak wedding season in Florida is different from many other states. Due to the weather, the months of June, July and August can make it too hot to have a big wedding day, and instead Florida's peak months are October, November, and March. 
However, these months can be hard to book as they get so busy, and the off peak months can be more efficient and cost friendly. Whichever date you choose, make sure it works for you, and it's what you want for your special day!