Palm Beach is a slice of paradise, so it's not a shock to know that it is a popular location for couples to host their destination wedding. 
But, with so many venues to choose from, each offering a range of amenities and benefits, it can be difficult to know which will be the right fit. 
To help you get a glimpse of what's on offer and to help to narrow down your options, we've put together a list of the 15 best Palm Beach wedding venues for your dream wedding. 
Considered one of the most sought-after wedding venues, Breakers West Country Club offers a luxury wedding service of exquisite food, impeccable service, an elegant ballroom, and a perfect backdrop. They offer a once in a lifetime experience. 
They provide an exclusive cocktail reception with a butler serving specialty drinks. They offer a sit-down plated dinner with table service, letting the couple sit back and relax. They also provide a custom cake design service to bring your vision to life.

Addison is a charming estate in the South of Florida near the beaches of Palm Beach County. Brimming with history, elegance, and charm this Boca Raton estate makes for an idyllic wedding backdrop. 
The Addison caters to both an intimate occasion or an extravagant affair. They offer full-service planning to take the stress off as well as an award-winning cuisine and a stunning picturesque reception to create a unique and unforgettable experience for you and your guests.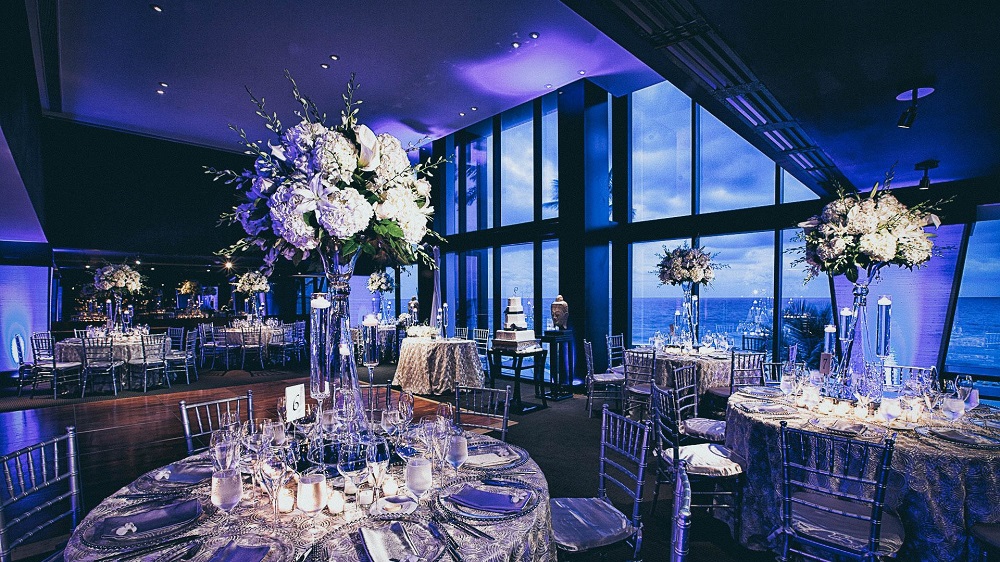 Resting on a private white-sand beach, Tideline Ocean Resort & Spa offers breathtaking views of the Atlantic Ocean. This resort provides a gorgeous oceanside outdoor terrace where couples can walk down to the water's edge to capture sun-kissed photos.
They offer an exclusive service that takes care of your every need, from the bridal shower to the post wedding brunch. Tideline Ocean Resort & Spa offers a relaxing and pampering service to make your wedding day feel like a dream.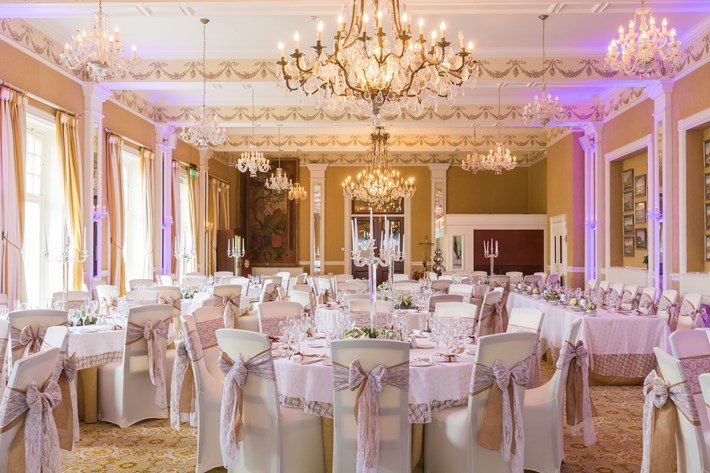 The Chesterfield Hotel Palm Beach is a characterful 4-star luxury boutique hotel boasting an element of old-world charm. This wedding venue offers multiple functions to help you get the day of your dreams. They offer the option of a couple to host their ceremony, reception, engagement party, and bridal shower at the venue. 
As an added service, they allow couples to get their pets involved in the special day offering a welcome basket, gourmet menu, and grooming for the loved pet. This is a great choice of venue if you want your pets involved in your big day.
If you're looking to go all out, the entire hotel is available for exclusive hire.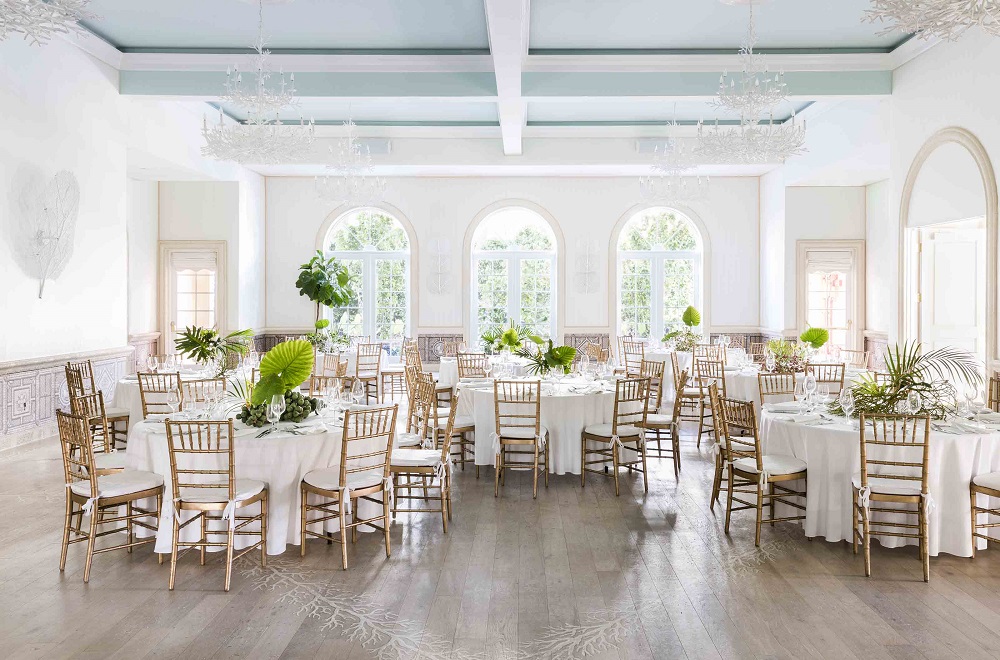 The Colony Hotel offers a fun yet chic backdrop for your destination wedding. This hotel offers a classic bold and daring venue full of character and color. If you're looking to plan a grand wedding with sparkle and flair, then this is the venue for you. 
Dance in the coral ballroom out onto the east garden. This hotel offers endless personality and is positioned around the corner of America's most famous shopping street, Worth Avenue. They offer in-house planners with connections to amazing bakeries and florists. They promise to offer a chic and personalized celebration for a day to remember.
Canopy Hotel brings an energy you won't find anywhere else. This wedding provides a local experience with local furniture and a locally inspired menu. This is a great choice of venue for a couple who are sentimental about their local area. 
The Canopy hotel offers a large balling with floor-to-ceiling windows so you can dance the night away in style. They also offer an onsite catering service and bar service to take some of the weight off your shoulders. 
They also throw in a bonus of offering a complimentary night stay for the wedding couple.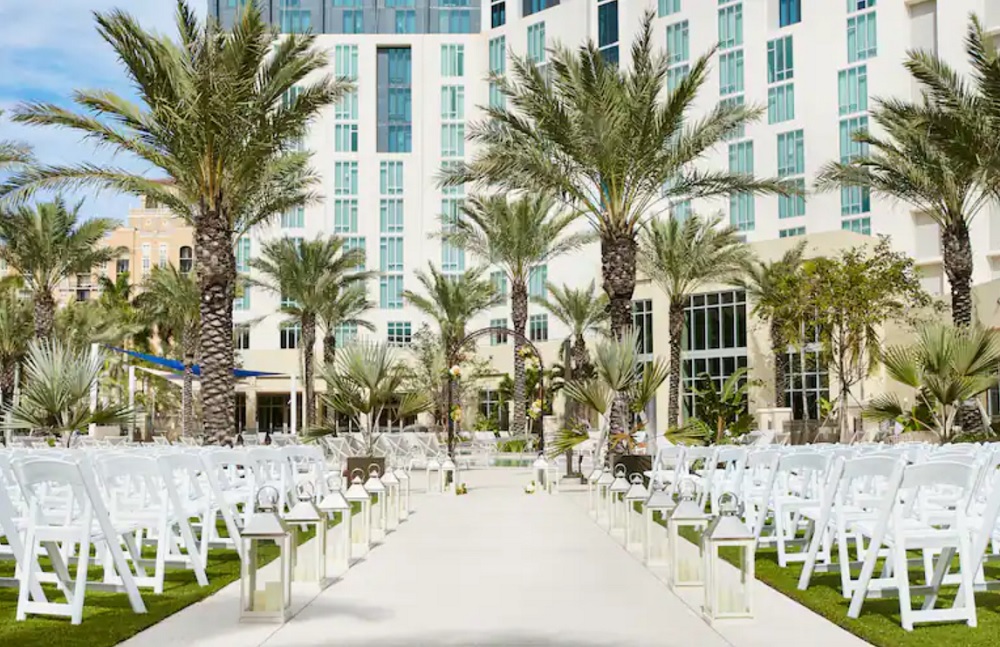 Hilton West Palm Beach provides a tranquil wedding space that allows you to relax and enjoy your important day. Hilton West Palm Beach offers to host wedding ceremonies, receptions, and engagement parties. 
They offer a modern and stylish space including a sophisticated ballroom, a relaxing room to get ready in, and different sized rooms to cater for both small gatherings and large occasions. They also provide an in-house catering service where they offer fresh and local cuisine or a custom menu if you already have an idea of what you want to be on offer.
Fountains Country Club is a decadent wedding venue located in Lake Worth about 20 minutes from West Palm Beach. This wedding venue offers a luxurious and sophisticated wedding experience. They offer a variety of event spaces so that you can choose the one that suits you best. They provide hosting services for weddings, receptions, engagement parties, and rehearsal dinners.
They provide impressive service of offering a range of catering options from a buffet to a plated station or hors d'oeuvres. They also offer full bar service as well as the additional service of setting up and cleaning so that you don't have to worry about menial tasks and can instead look forward to enjoying your day.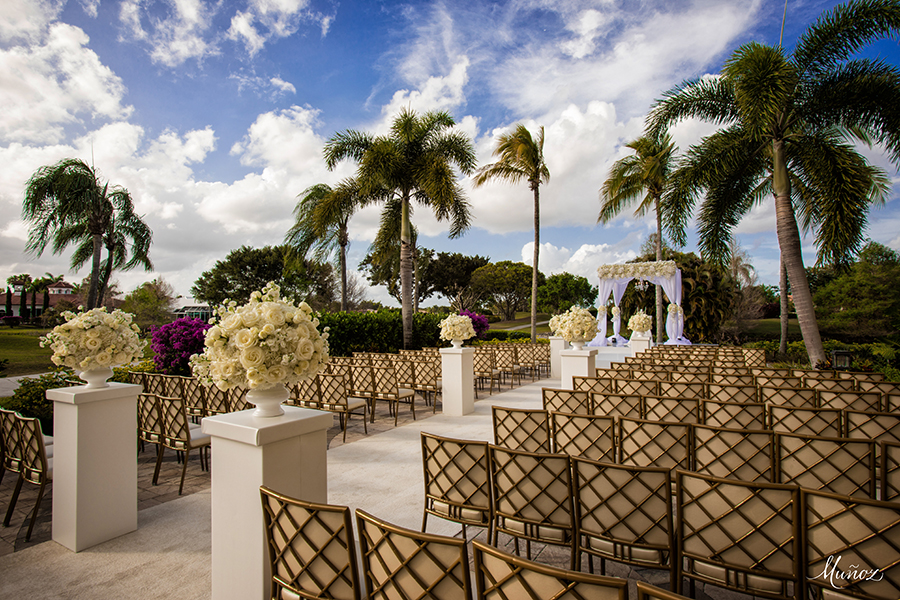 The Club at Ibis is a private country club in West Palm Beach. This romantic venue offers a beautiful backdrop of a grassy waters preserve. This is an ideal wedding venue for anyone who loves to be immersed in nature. This venue offers the hosts and guests a unique opportunity to encounter some of the local wildlife. 
With panoramic natural views, this is a great place to create memories on your wedding day. With a large amount of indoor and outdoor space available, you're free to choose which space you would like to be your ceremony venue.
Four Seasons Resort at Palm Beach offers a five-star wedding venue with an authentic Palm Beach experience. They do offer a variety of spaces to accommodate your wedding style and size. The resort offers a classic atmosphere with a spacious, elegant ballroom and a cozy library. 
The resort takes away all the stress of wedding planning. Instead, they offer a set plan with options for you to add your own personal touches to give you a unique and unforgettable experience.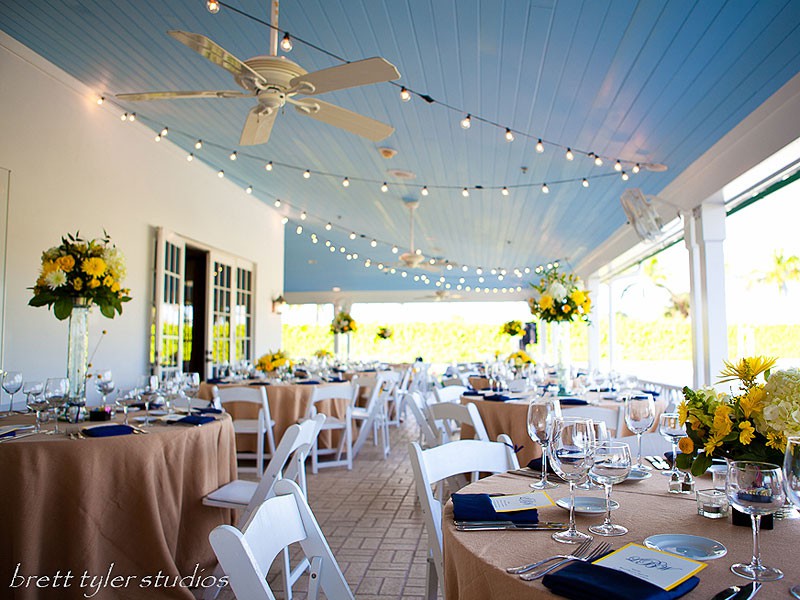 The National Croquet Center offers a classic Floridian Keys style. This view provides views overlooking endless lawns over an expansive veranda. The venue offers a personalized and customized service for each event providing qualified vendors, music, florists, photographers, set designs, and valet parking. 
With professional catering staff on hand, you're guaranteed a five-star service. This is a great choice of venue if you are looking for something subtle but of a good standard or if you are a fan of croquet as they incorporate a game of croquet in every event.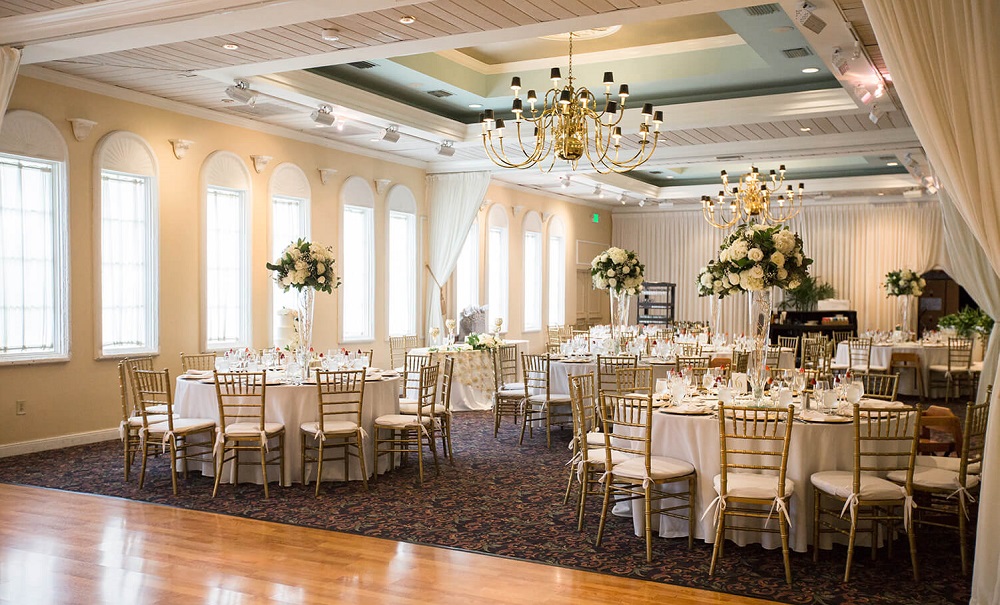 Benvenuto Restaurant offers a glamorous wedding venue with a stress-free atmosphere. With everything taken care of from the beginning of the event to the end, Benvenuto offers a hands-on service that gives you the day you've always dreamed of.
This wedding venue stands out for its food. They offer delicious American cuisine with an international twist. Their menu offers great variety allowing you to enjoy their finest dishes. They also have a dedicated team of specialists just to make sure your day goes smoothly and exactly to plan.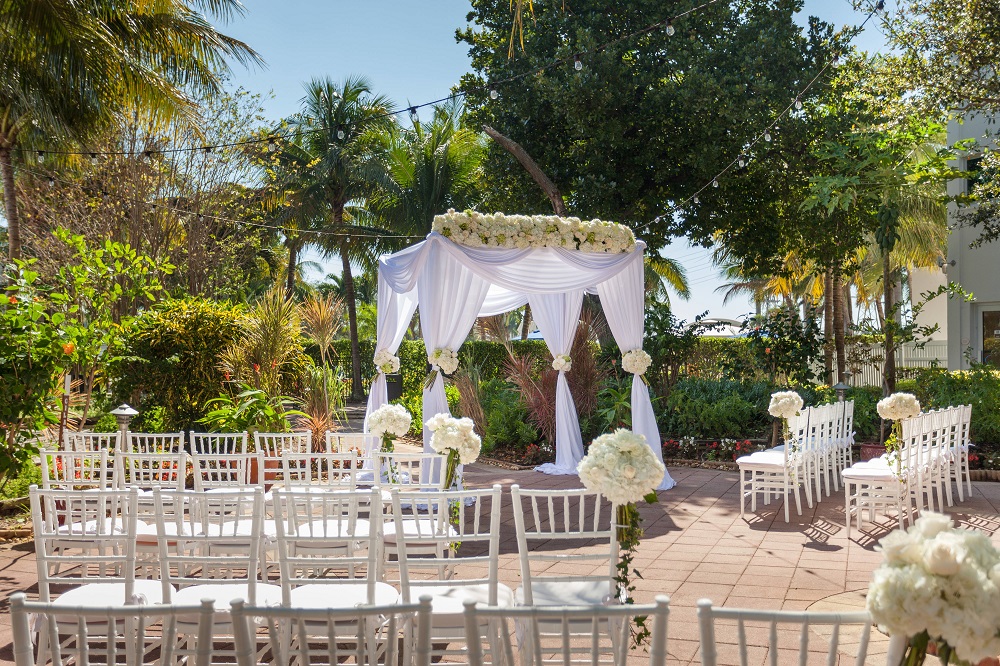 West Marriott Beach offers a unique wedding service with inspired hotel amenities. Located in the colorful downtown, this hotel boasts vibrant character and personality. They offer an elegant reception hosted in a tropical courtyard. 
They have several specialists on hand to make sure that your day runs smoothly and they offer a delicious menu that is tailored to your wedding theme. 
They also offer an added service of hosting rehearsal dinners, bridal showers, and wedding breakfasts.
If you're a fan of golf, Deer Creek Country Club would be a great venue choice for you. This sophisticated venue offers a timeless atmosphere. It is nestled between Fort Lauderdale and Boca Raton. This venue is considered a premium wedding location. 
Opposite the exquisite ballroom is a stunning view of the country club's gardens making for a unique and beautiful backdrop. 
This venue can house up to 200 guests. They offer options to accommodate you, your guests, and your budget.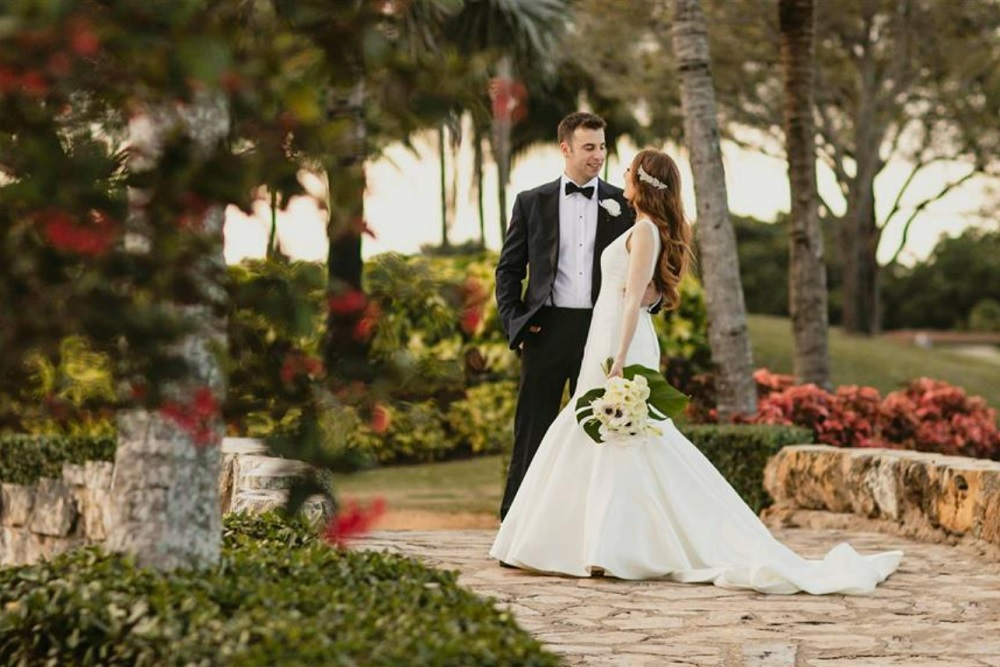 BallenIsles Country Club offers an idyllic venue located near Palm Beach Gardens. This venue is the ideal place to host your big day. This country club offers dedicated culinaries, event planners, and service staff for an exceptional luxury experience. 
With a range of outstanding amenities and a view to die for, this venue is a great place for an elegant ceremony.