Disney is a huge part of many people's lives. We grow up watching all of the movies, have favorite characters that we love so much, and visit Disneyland and Disney World. Disney Parks are often referred to as the happiest place on Earth, so it comes as no surprise that so many people tie the knot there.
Due to this, Disney offers lots of planning services and packages for Disney Weddings, so that you can have your big day in one of the most beautiful, nostalgic and fantastical places in the world! Seriously who doesn't love a fairytale ending? 
So, if you're wondering what it'll cost you to get married in Disney World in Florida, then this guide is perfect for you.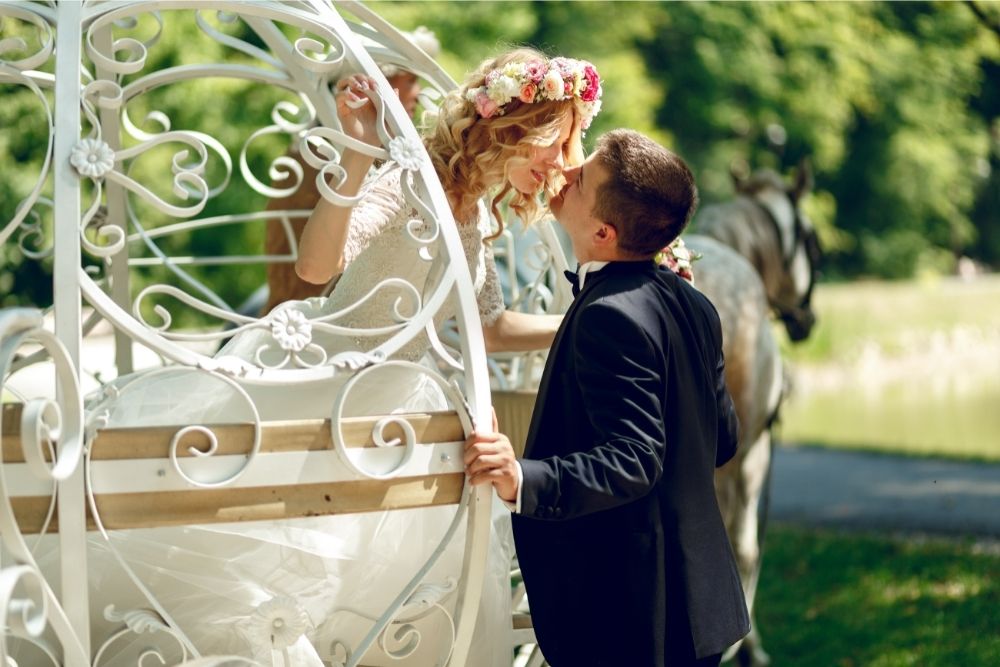 How much does it cost to get married at Disney World in Florida?
How much it actually costs to get married in Disney World in Florida will depend on what you want for your special day.
Some people want to go for the full package, and will spend thousands of dollars on the venue, decor, food, reception, photography and more, whereas others on a tight budget may just get married at the venue, and have a small gathering of family and friends to celebrate. 
Because of this, there is no real average cost, as some can cost as little as $3,500 for just the venue, whereas more extravagant fairytale Disney weddings can set you back $180,000! So, to give you an idea of what it will cost you, we are going to break down the packages here for you!
Before we start, let's just explain that the Weddings are held to an event minimum expenditure. What this means is that it's determined by the day of the week and time of day and venue that you choose, however your venue fee and wedding services fees can be used towards the event minimum. You can find out what the event minimum expenditures are here: https://www.disneyweddings.com/florida/pricing/.
Walt Disney World Florida Wedding Prices
When it comes to Disney World Weddings, there are various different packages you can choose from. The cheapest is the Memories Collection package, and the Wishes Collection is the most expensive. 
Memories Collection
The Memories package has a starting price of $3,500 and is the smallest and most intimate of all of the Disney Wedding collections. This package is perfect for couples who want a special day just for them and a few close family and friends, but want to have that Disney feeling as part of their day. 
The Memories collection is simple, yet elegant, and you have three locations to choose from. These are the Conch Key Marina at Disney's Grand Floridian Resort & Spa, Sago Cay at Disney's Grand Floridian Resort & Spa, or the Luau Beach and Pointe at Disney's Polynesians Village. These venues start at $2,500, but have event minimums from $5,000 to $15,000.
In addition, in this package you will receive an on-site wedding coordinator, fresh floral options, a violinist for the ceremony, three hour limousine charter, a professional Disney photographer for 1 hour and a 11" x 14" portrait of your choice. 
However, you can add a portrait session at the theme parks for an added fee if you want that perfect pic in front of the iconic Disney castle. 
Escape Collection
At the middle of the price range, you have the Escape Collection, as these weddings start at $7,000. For these types of weddings, you are able to invite up to 18 guests, for an intimate day, but surrounded by your nearest and dearest. 
There are five Disney Wedding venues to choose from with the Escape package. These are: Disney's Wedding Pavilion at Disney's Grand Floridian Resort & Spa, the Wedding Gazebo at Disney's Yacht Club Resort, Sea Breeze Point at Disney's BoardWalk Inn, Canada Terrace at Epcot, and Luau Pointe at Disney's Polynesisna Village. These locations have event minimums of $8,000 to $20,000. 
You will also receive fresh floral options to choose from, a violinist for the event, cake and champagne celebration, four consecutive hour limousine charter for the couple on the Wedding day, a professional Disney photographer for 2 hours, and a photo album. 
In addition, you will receive a Disney Wedding Planner, and on-site coordinator for the event, with a social media USB drive for extra images of your event suitable for online media platforms. 
You can also hire the Cinderella Carriage and other Disney vehicles, characters and more for these weddings, but the costs are very high. 
Wishes Collection
The Wishes packages start at $12,000 and can be completely customized to your needs. This is for one of a kind couples who want a very special big day. You will work closely with a Disney Wedding Planner to make sure that everything is perfect, whether you want to get married in front of the Cinderella Castle, or in another country at the Epcot World Showcase. 
You can get married at the Wedding Pavilion, or have a rustic, outdoor wedding at Fort Wilderness, or even one at the Tower of Terror or your favorite Disney World attraction. The (Disney) world is your oyster! 
For these types of locations and packages, the minimum expenditure fees can be anywhere from $7,000 (for Epcot Pavilions, Plazas and Wedding Gazebos) to $25,000 for Tree of Life or Tower of Terror Weddings, and up to $50,000 for the Magic Kingdom and weddings in front of the castle. 
Disney Wedding Services
To add to your wedding, and spend the event minimum fees, you can choose from a range of services. For instance, you can book Brunch from $140 per person, Lunch from $165 per person, or Dinner from $190 per person. Or, you can organize pre-reception, reception, cake and bar services. 
You can also add floral decor, and Disney themed decor to meet the minimum expenditure fees, by having beautifully decorated wedding arches, chairs and arrangements for your big day. 
There are also a range of additional photography options ranging from $2,995 to $4,995 to get Theme Park Portrait Sessions, Fairytale Albums and extra photographers on your wedding day.
You can also choose limousines, vintage Rolls-Royce or a convertible Ford Model A to make your entrance, or arrive in a horse-drawn carriage. The Cinderella Carriage itself costs $2950 for two hours, so it'll be easy to make up to the minimum expenditure costs. 
Our Tip
The good news is that the minimum expenditure costs can vary, so don't be too worried if a Disney Wedding seems over your budget. The expenditure costs can be lower if you get married in the morning, or on a weekday, so you can still have a small, intimate Disney wedding at a beautiful venue, without worrying about breaking the bank.