Planning a wedding is tough business. There are so many things to think about, so many traditions to uphold, and so many people that want to be involved in your special day.
One of the first things you will start to plan when you get engaged is who will be standing up at the altar with you on your special day, and who will walk down the aisle with you.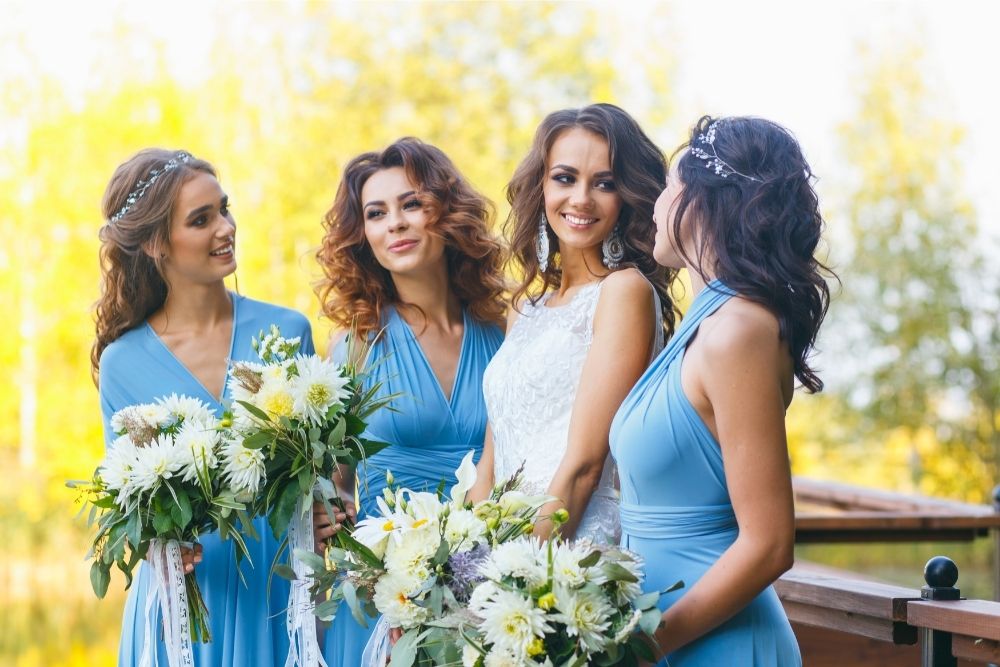 You've probably already got your Maid of Honor planned out with your bestie, and you're trying to figure out who should be a bridesmaid and who isn't going to make the cut. To make your life that little bit easier, we can help out with this handy guide.
One of the biggest questions we get asked is who can be a bridesmaid and can a married woman be a bridesmaid? Luckily for you, we have all of the answers about what is bridesmaid etiquette, and what is socially acceptable. Let's dive in. 
What is a Bridesmaid?
In traditional and Western weddings, a bridesmaid is a part of the bridal party, and will usually be a young woman or close friend of the bride. Being a bridesmaid is often considered an honour, as you get to be a part of the wedding, a part of the ceremony and wedding processional. 
In addition, bridesmaids get to be involved in the whole wedding planning process, and get to go to the bachelorette party. As a bridesmaid, you will therefore make memories with the bride, and be there to support and help her throughout the entire wedding. 
Why do we have Bridesmaids?
Having bridesmaids with you on your special day is a tradition that has been upheld for centuries. Brides have chosen close friends and relatives as bridesmaids to help them prepare for their wedding day since ancient times. 
During Ancient Roman times, a wedding typically required 10 witnesses for it to be legally binding, so friends and family were often invited for this purpose.
During this period, people were very religious and also very superstitious. As a result, a bride would choose bridesmaids to accompany her down the aisle for security and protection. 
These bridesmaids had to be dressed in a similar manner to the bride, in order to confuse evil, vengeful spirits, and protect the bride on her wedding day. These spirits were thought to have an evil presence that could harm the bride, curse or sabotage the newlyweds, so the bridesmaids were used as decoys. 
Nowadays, we're not so superstitious. For the most part, having bridesmaids with you is a means of having a support system and your nearest and dearest with you on your wedding day.
It is also a way of having those you care about most deeply involved in the whole process, to make it more personal, and make wonderful memories that you will never forget.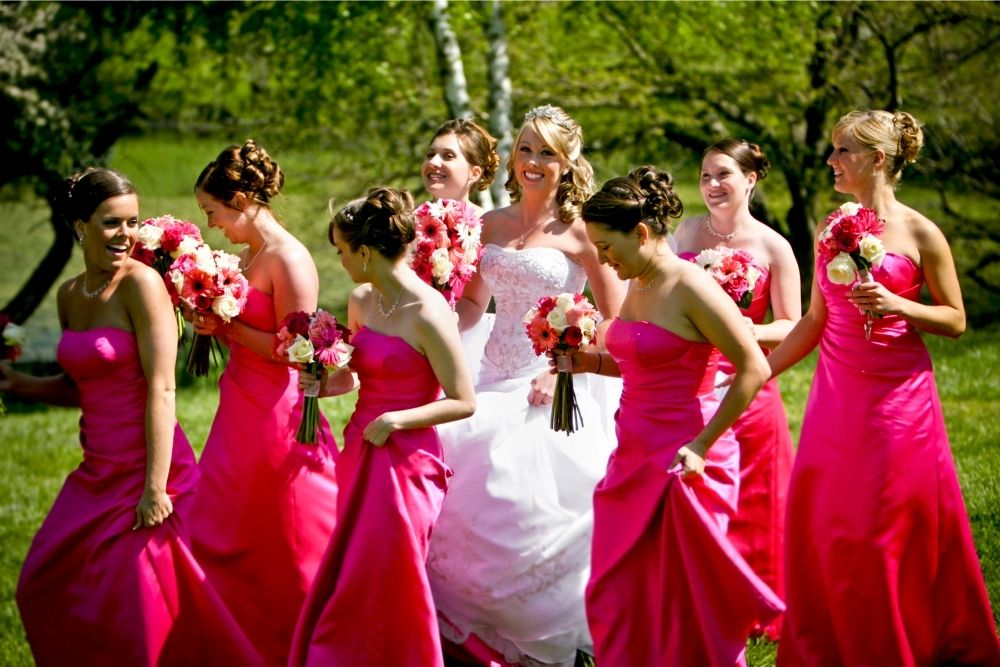 Who can be a Bridesmaid – What is Bridesmaid etiquette?
Traditionally, bridesmaids would be young women who are friends and family members to the bride. For the most part, it is easier for a bride to choose siblings, best friends and other family members to be bridesmaids. 
Depending on how many bridesmaids you want, you can have sisters, close friends, your groom's sisters, or anyone else you would like to be bridesmaids. In addition, nowadays, gender roles do not pay as much of a big part in how you plan your wedding day. 
For instance, you can have female groomsmen and male bridesmaids, as people tend to have more friends of the opposite gender than before.
If you have a very close male friend, and you want them with you on your special day, then have them in a matching suit to stand with the other bridesmaids. It's entirely up to you! Anyone you want to be your bridesmaid, can be your bridesmaid. 
Can a married woman be a Bridesmaid?
Due to the fact that the term maid is used in the word bridesmaid, I think a lot of people get worried about it being bad etiquette to have a married woman as a bridesmaid. Whilst bridesmaids are typically unmarried maidens, this is a very old tradition and dates back hundreds of years. 
In the modern day, of course you can have a married woman as your bridesmaid. For example, if your best friend or sister was married, does this mean she cannot stand next to you or walk you down the aisle as part of your wedding processional on your big day? Of course she can! 
Even if you wanted to choose a Maid of Honor, which is typically the chief bridesmaid and one in charge of organizing bridal events, and generally helping out the bride with wedding duties, she can still be married. However, a married Maid of Honor would be a Matron of Honor instead! 
The important thing to remember is that this is your day. You can plan it in any way that you wish. Old traditions are often outdated, and don't make sense to us in our modern culture.
Whilst it is tradition to have maidens as your bridesmaids, no one will think it is poor etiquette if you have a married bridesmaid in your midst. 
Summary 
To summarize, bridesmaids are your closest and most valued friends and family members. You get to choose who goes with you to walk down the aisle and share the most intimate and special moments on your wedding day.
Whilst traditionally, bridesmaids would be maidens, nowadays it is more accepted to have whoever you want as your bridesmaids, married or unmarried, it's entirely your choice!