On one of the happiest days of your life, you want a little something fun that gives your guests a taste of what you're all about as a couple. A great way to do this is by offering a signature drink.
Not only is this a great way to give your guests a drink that sums up your relationship, but it's also a great way to get the celebration started.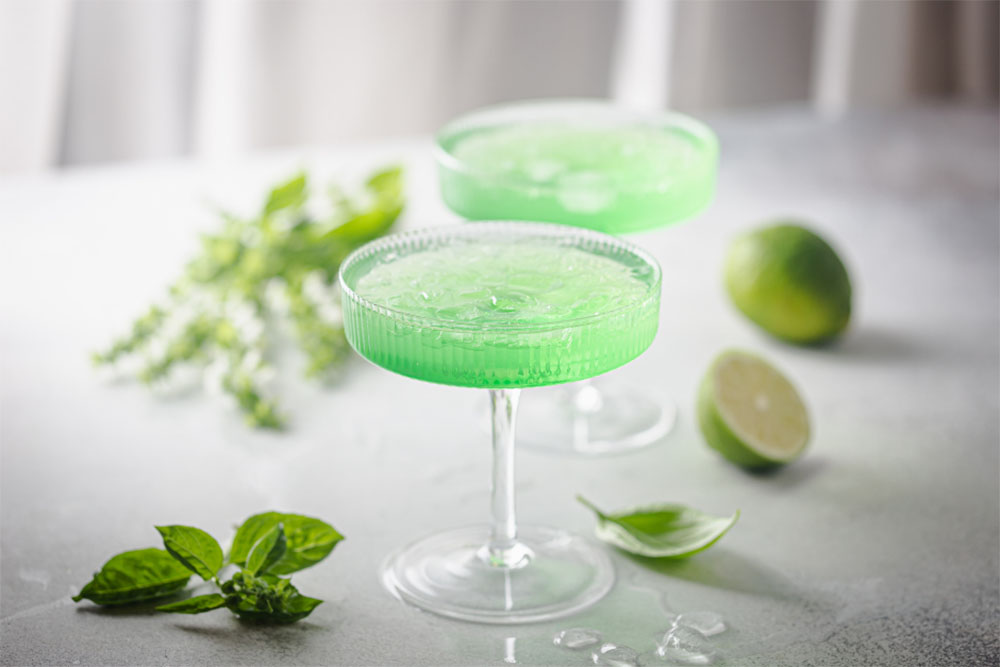 There's nothing worse than offering your guests a boring drink that doesn't taste right and is meaningless. To kick your celebration off in the way it deserves, we're giving you an exclusive signature cocktail recipe: Lucky in Love. 
Not only is this a delicious drink that will have guests asking for more, but it's also light and refreshing with everything you need to get the party started. 
Ingredients
1 cup of diced ripe honeydew melon 
1oz vanilla vodka 
½ oz Cointreau 
½ oz Midori
¾ fresh lime juice
1 tbsp roughly chopped fresh mint leaves 
½ cup of cold brut Champagne 
Instructions
Begin by putting the melon into a blender or food processor until it is pureed to a thick consistency. If it is too thick, add a little bit of water to get it to the desired consistency. 
Press the pureed melon into a strainer into a cocktail shaker filled with ice. 
Add the vanilla vodka, Cointreau, Midori, fresh lime juice, and mint leaves to the cocktail shaker. 
Shake until all of the ingredients are infused. 
Strain the mixture into a chilled glass and top with Champagne to fill, and then stir. 
If you want to go the extra mile, before starting the process, take your chilled glass and rub lime juice around the rim, and coat in sugar. This makes for a delicious added sweetness and it also looks great. 
You can also add a couple of mint leaves after pouring the Champagne as a garnish. 
Reasons Why You Should Serve A Signature Wedding Cocktail
Serving a signature wedding cocktail like Lucky in Love is a great statement for people to remember your wedding.
Once your wedding is over and life reverts to normal, what you'll remember about your wedding is your first dance or the speeches people made, whilst these are all really special memories, the signature drink is a great way to include your guests in your day.
It's a way of adding a personal touch and showing how they are a part of your day and have fitted in with what your cocktail represents. 
Some people offer signature cocktails that guests have to pay for. This is a great way to fundraise money to put towards something you and your partner can do together, such as putting it as a contribution towards your honey.
You can also let your guests know that this is what you plan to use the money for. 
Another reason to serve signature drinks at your wedding is to save money. Serving your own cocktails is a great money saver as you don't have to worry about the expense of hiring a bartender or mixologist for the whole wedding party. Keeping your ingredients to a minimum will also help to keep your costs down.