When you're planning your wedding you'll soon realize that the choice of venue is one of the biggest decisions you'll make. Impacting everything about the event, the venue sets the tone for the whole day. 
With so many venues in Clearwater, it can be hard to find the right one for you. We've taken the stress out of the situation by making a list of the top 15 wedding venues in the area. With something for everyone, your dream wedding venue might be closer than you think.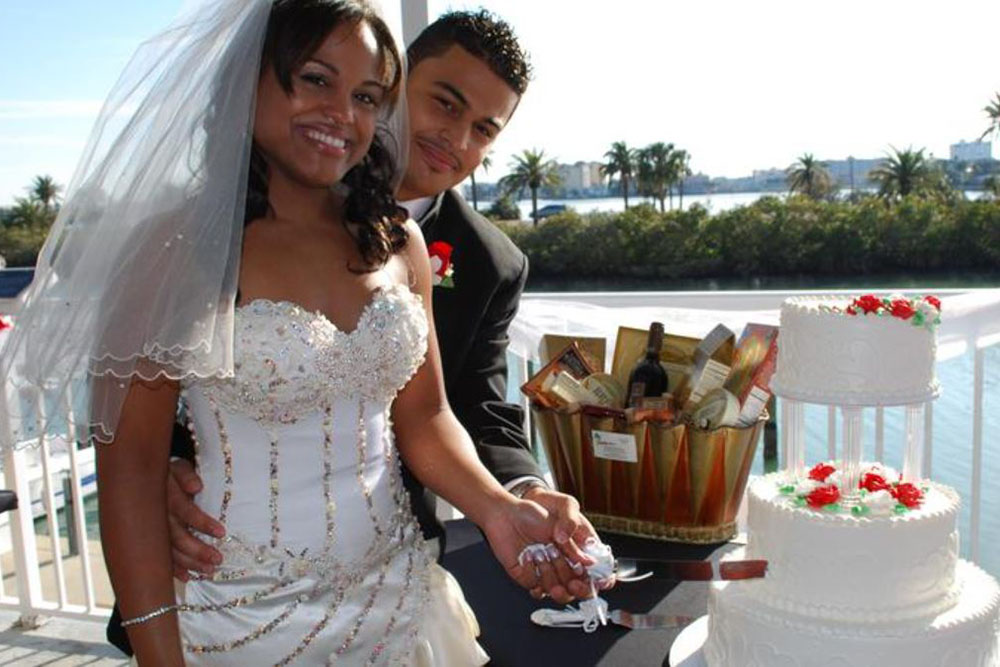 Perfect for couples who love undersea life, this unique venue can hold both your wedding and reception on site. Able to hire out a few rooms or the whole building depending on the size of your party,  choosing this spot will make for a unique fun-filled day for everyone. 
Another great venue for couples who want something a little different, this museum is perfect for those who appreciate a retro style.
Able to get married by the beautiful Turtle Lake, or inside the museum itself surrounded by stunning old-fashioned cars, once the ceremony is over the museum is free for you and your guests to roam. 
With so many things to see in this massive indoor event space, it will have you and your guests intrigued and excited from start to finish. 
For those who love the performing arts, why not get married in an actual theatre? Known for hosting plays, musicals, comedy acts, and concerts, Ruth Eckerd Hall also provides event space for your wedding and reception.  
Featuring a ballroom, outdoor space, and auditorium, this location can hold a huge amount of guests, and their seasoned staff is on hand to make sure that everything on the day runs smoothly.
Though more on the expensive side Ruth Eckerd Hall is perfect if you want an elaborate wedding. 
Featuring beautiful views of the seaside, this resort offers a refined setting for you and your guests to have a glamorous celebration. 
Offering several event spaces, if a beachside wedding isn't to your taste then you could make use of one of the three ballrooms.
With each ballroom varying in size, whichever one you choose will decide the number of guests you can have, but no matter what you choose each one is beautifully decorated with elegant chandeliers and floor-to-ceiling windows. 
With so many spaces available, and a dedicated team on hand to help you plan your day, this site offers everything you need to make your day one to remember.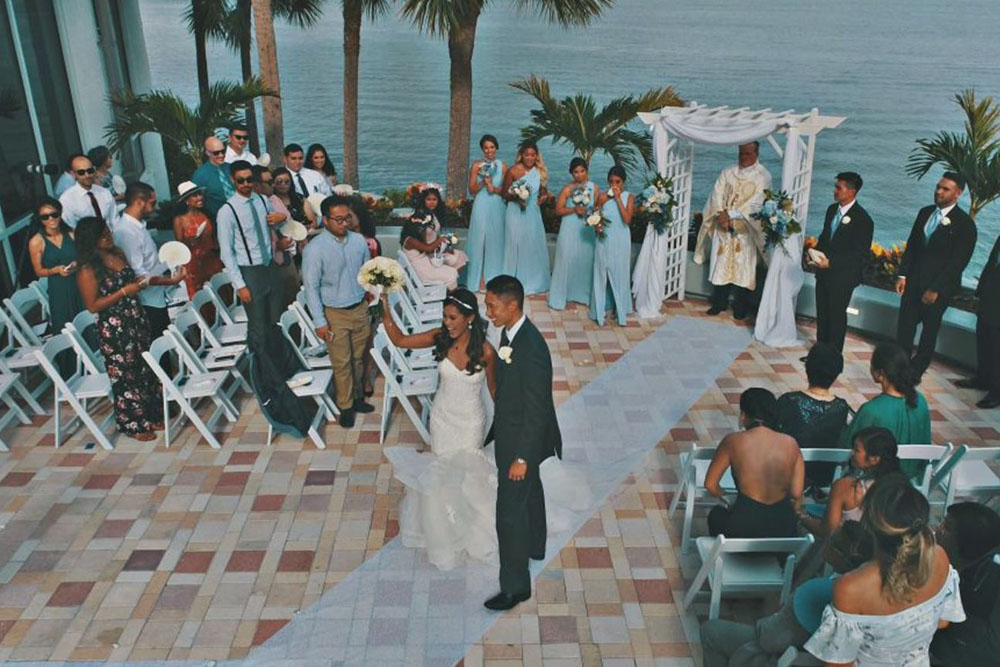 A great location for a beachside wedding, this venue allows you to customize aspects of the day.
Able to accommodate both intimate and large wedding parties, and with a professional team available to help you plan everything from the flower arrangements to the menus, Marriott Suites helps take the stress out of planning and lets you focus on having fun. 
Providing spectacular views over the coast, this waterfront venue is one of the most picturesque on this list.
Able to host between 10-600 guests depending on the event space chosen, if getting married outside isn't for you then you can easily move to one of the beautiful indoor rooms that still have stunning views over the sea. 
Able to arrange services like event planning assistance, and providing essentials like tables, chairs, and decorations if you choose, this is the perfect place for the wedding of your dreams.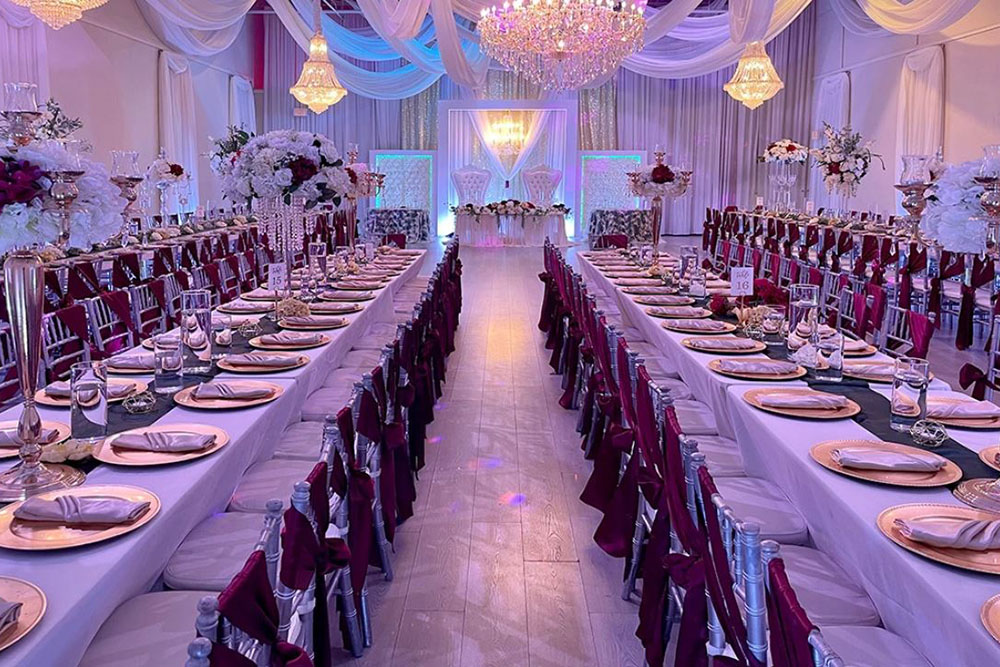 If you want a fairytale-style wedding this is the venue for you. This luxurious all-inclusive event space features a large ballroom that you're able to customize and design to your style and theme.
Wedding planners are also on hand to find you everything you'll need. And with a well-lit outdoor space that looks stunning at night, you'll be able to take beautiful pictures that make you look and feel like a princess. If you want elegance this is the place for you.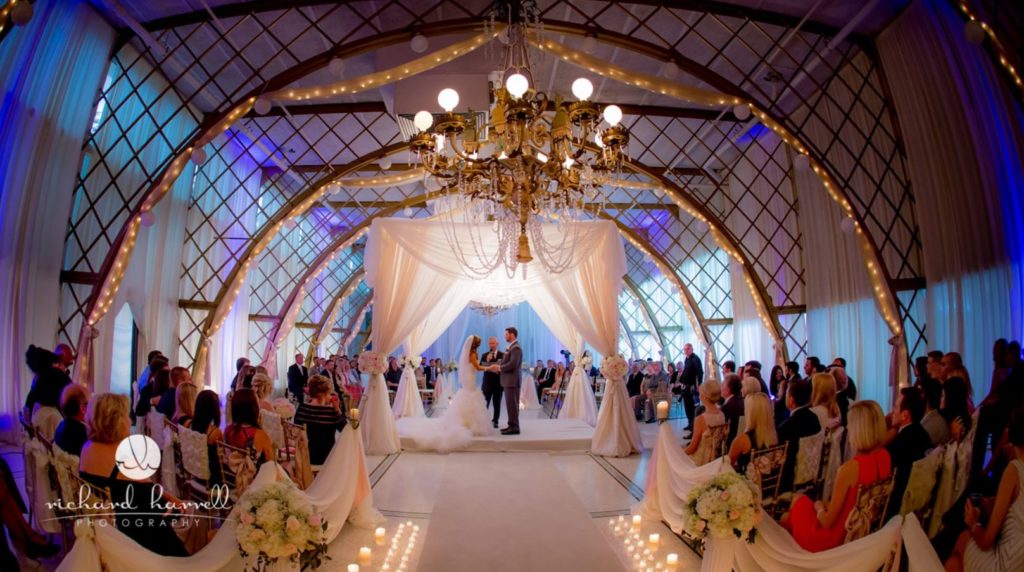 This massive venue features 5 unique event spaces allowing you to choose the best spot for your ceremony, reception, and photos. The Florida Room Chapel is perfect for the ceremony itself, featuring domed lighting and a long aisle.
For the reception, you can make use of the Grand Ballroom, decorated with a European Style. With a grand entryway staircase, all eyes will be on you when you first join your guests. And for some gorgeous photos, the Italian-style gardens are a perfect spot. 
Stunning all around this is a location both you and your guests will love. 
This venue, though usually a dance studio, offers couples three ballrooms to choose from when hosting their ceremony and reception.
Perfect for those who want a blank canvas and the freedom to design and decorate every aspect of the venue, this location offers you the freedom to create your dream wedding in your own style. 
Able to seat up to 200 guests in their larger rooms, this location is also pet friendly so you can even invite your four-legged friends to the party.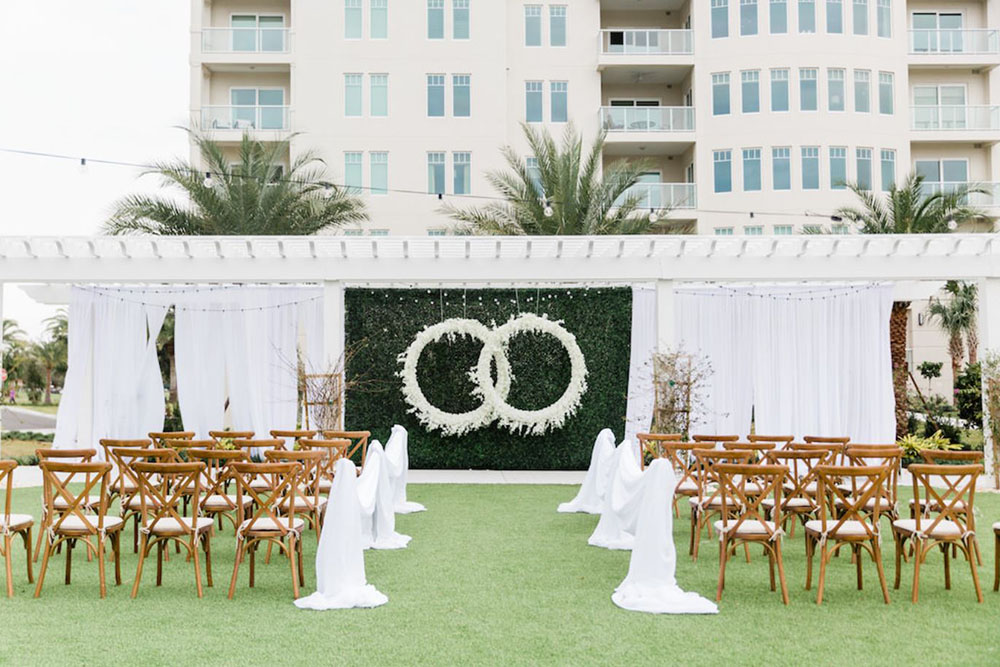 Able to accommodate 60 guests, this historic location is one of the best for more intimate weddings. The site features two stylish indoor and outdoor spaces so you can choose which suits your vision best. 
The Tiffany Room is decorated in a historic style and still features some of the original Tiffany glass that gave the room its name. If you'd rather be outside then you can make use of the Grand Event Lawn that can host both day and night ceremonies.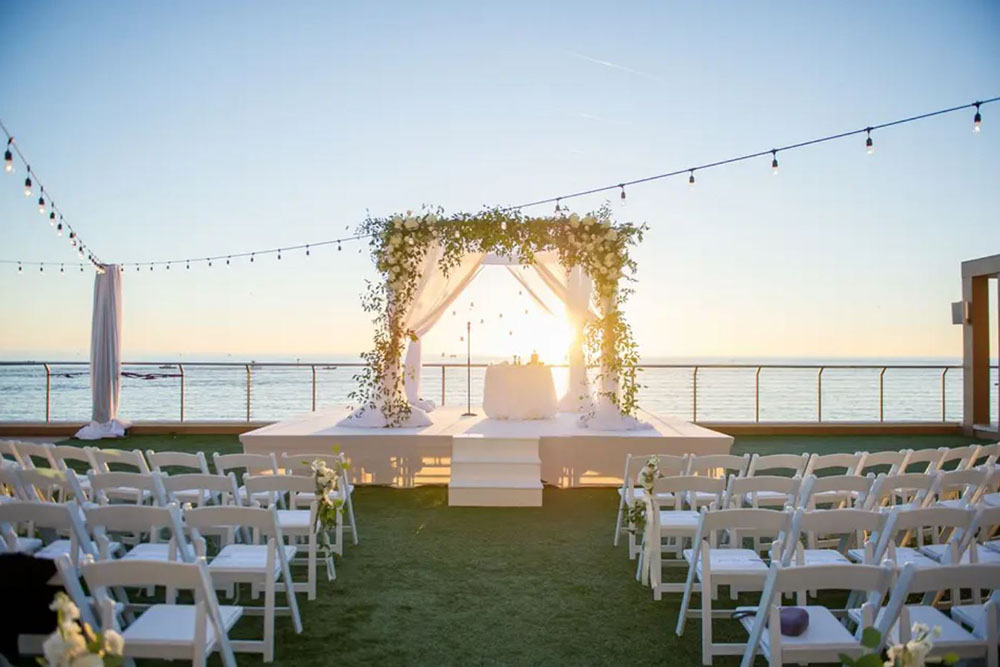 Another stunning beachfront location, Opal Sands offers a beautiful event space right on the coast.
After the ceremony overlooking the sea, you and up to 500 guests are invited into the Opal Ballroom that features private balconies overlooking the sea and floor-to-ceiling windows.
Able to personalize aspects like the menus and decor allows you to make the day more special to you.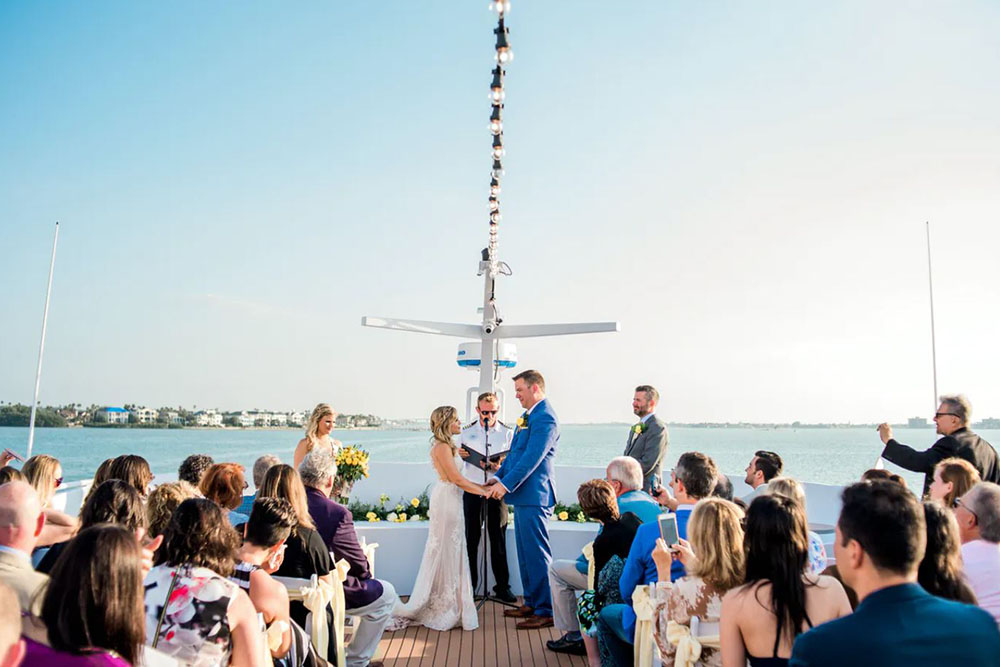 If you love the sea then this is your chance to hold your celebration on one of four luxury yachts.
Able to hold both the ceremony and reception itself, and with wedding planners on hand to find you whatever you need, the Yacht Starship promises a stress-free and wonderful wedding experience.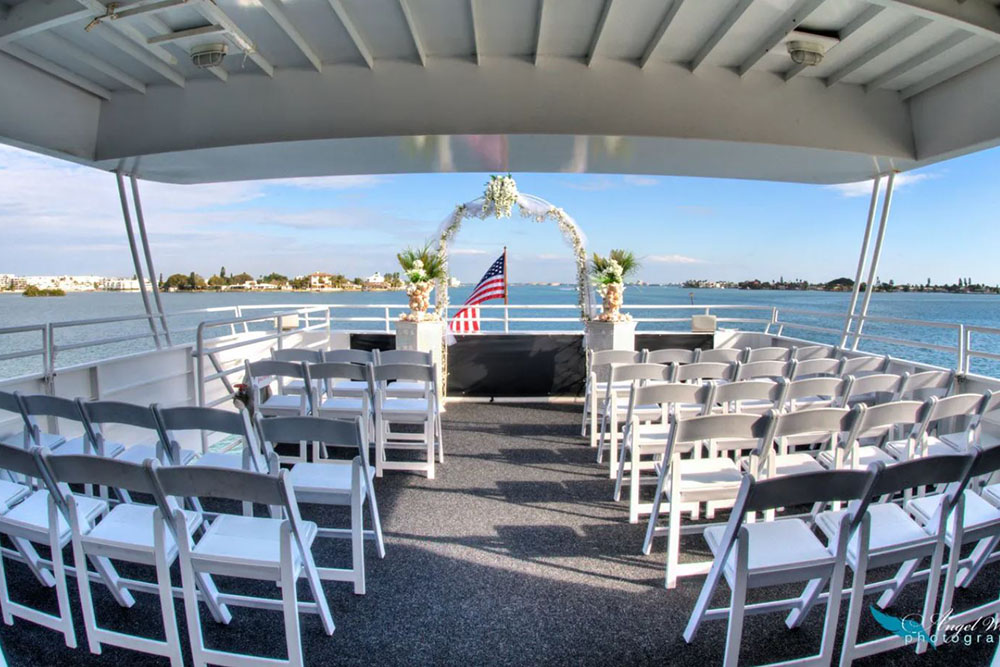 Another for sea lovers, StarLite offers luxury yachts for your wedding and reception, the biggest being able to hold 280 guests.
Each yacht provides something different to your wedding, the Carribian themed boat for example features two dining levels and an open third level, while the Dolphin Speedboat offers dolphin sightseeing for 120 guests.
No matter what seafaring adventure you want for your day, StarLite can provide something that everyone will enjoy. 
A massive venue able to accommodate over 300 guests, this impressive location lets you say "I do" overlooking the stunning Floridian coast.
The outdoor dining and reception area is equally as pretty, and with enchanting fairy lights illuminating the area at night you'll be able to dance the night away with your partner and friends.
With a 10 acre private beach overlooking the Gulf of Mexico, this enchanting spot will take your breath away.
Able to hold your ceremony reception indoors if the weather turns, the huge event space is customizable to your style and taste. A place of gorgeous natural scenery this venue will go above and beyond your expectations.