When planning a wedding one of the most important choices is the venue. Whether you're wanting a traditional church, an outdoor wedding, or something a little different, Key West has endless possibilities for you. 
With so much choice we've come up with the top 15 venues to help you make the right choice to make your day unforgettable. 
In the heart of historic Old Town, this beautiful venue boasts a secluded tropical garden that would be perfect for an outdoor ceremony.
Built in 1829, you'll have the option to have your ceremony inside the antique-furnished house if your day is interrupted by bad weather. Able to seat up to 120 guests, this venue is perfect for weddings both big and small. 
Beach weddings are very popular in Key West and with this kind of scenery you can see why. This venue offers the choice of having your ceremony on either a luxury boat or the beach. No matter what you choose you're also able to hire a 65-foot catamaran for the reception if you want to make your day even more special. 
Perfect for a smaller ceremony, this location offers a lush tropical garden that can hold your wedding and reception.
You and up to 75 guests can enjoy the intimate venue, and if you want to explore the fun activities the area has to offer. With the opportunity to hire a wedding planner, each wedding can be personalized to your style and taste. And with the venue being pet friendly you're able to invite your furry friends to enjoy the day with you. 
For those who love the sea, Danger Charters offers you the chance to get married on a luxury yacht.
Although the wedding will be more intimate as the venue can only accommodate 30 guests, you'll have the opportunity to charter the entire boat, and for an extra fee floral arrangements, a photographer, and a wedding cake can be provided. 
A beautifully restored Conch House built in 1902, this venue has proudly become one of the premium LGBT wedding venues in the Key West area.
Providing a safe and inclusive atmosphere for all, this venue can hold intimate weddings and receptions. With both indoor and outdoor spaces available to hold your wedding/reception, including a garden featuring a pool and jacuzzi, your day will be unforgettable for you and your guests. 
A 54-acre state park situated around a Civil War-era fort, you have 5 wedding sites to choose from just from this one location. With options including the fort itself, a white sand beach, or a spot overlooking the ocean, this location is perfect for all weddings. 
For those who want a splash of authentic Cuban atmosphere, this venue not only provides a stunning location for the ceremony, but also the option of Cuban catering, a ride in a 1957 Chevy, and even hand-rolled cigars.
This beachside venue allows couples to hold their ceremony on the beach with up to 80 guests, after which you're able to hold your reception in the wonderfully decorated Tiki Hut. If you want to splash out you can even include a trip to Cuba. If you love Cuban culture this is the wedding for you.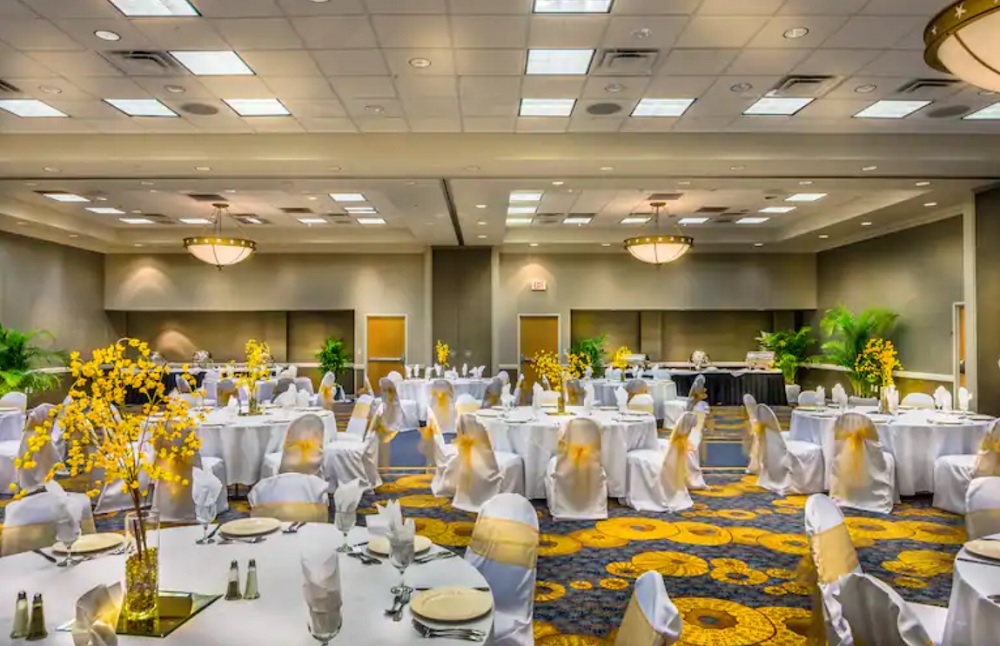 Hotels are always a popular choice for weddings, but this location pulls out all the stops to make your day perfect.
Able to accommodate up to 200 guests for the reception, the opportunity to hold the ceremony in either the tropical gardens or one of the beautiful indoor rooms, and even its own tiki bar, this venue is ideal for the ceremony, reception, and even the honeymoon. 
For those who want to bring a touch of Ireland to their day, Irish Kevin's is a wedding and loft venue that could be the one for you. Good for a more casual wedding and reception, the site is still able to hold a large party of up to 100 guests who can enjoy a private bar in the loft area.
If you wish to include more guests you have the option of renting out the whole building for the day, allowing you full use of all amenities. 
Another casual location, this company provides a 47-foot boat that includes two bars and its sound system. Able to accommodate live music performances and a large selection of cocktails, wine, and beer on tap, this is the venue of choice for those who just want to party. 
If you want some luxury this is the venue for you. Able to get married on the sandy beach, or hold an indoor ceremony within the resort itself, this location provides a beautiful backdrop for you and your guests.
If you want to spend your honeymoon here you're also able to make use of the spa itself, an outdoor heated pool, and a hot tub to relax once the big day is over. 
For a traditional church wedding, this charming church is one of the oldest Catholic parishes in Florida, and the oldest in the Archdiocese of Miami. Able to accommodate up to 300 guests this historic building will provide a picturesque backdrop for your ceremony and photos. 
Originally the winter house for former President Harry S. Truman, this venue is now one of the largest in the area.
The house, decorated in a 1940s style and including many of President Truman's original furnishings, allows you to get married within these rooms or one of the three lawns outside.
For added help, the venue also offers wedding packages or wedding planners to make your day go as smoothly as possible. 
Providing you a selection of 5 venues to choose from, Kimpton allows you to choose the best location to suit your style and needs.
The largest option is Winslow's Bungalows which features a covered event pavilion and beautiful fruit grove. If you want something more historic and elegant you can choose instead Ridley House.
This property is decorated in a 19th-century Florida theme and provides 23 overnight accommodation options. No matter what you want for your wedding, Kimpton Key West can provide. 
A small but charming venue, the Tropical Inn is a favorite for intimate ceremony's. You're able to hold your ceremony in whatever part of the garden you like, and the staff can find you the best wedding vendors in the area.
You and your partner can also make use of the honeymoon package that features wine tasting, a sunset sail, and a custom engraved lock that can be put on a large birdcage in the garden to signify your love and happiness.