Daytona Beach is a beautiful city in the State of Florida. With 23 miles of beautiful sandy beaches, it's no wonder that this city is a popular destination for weddings!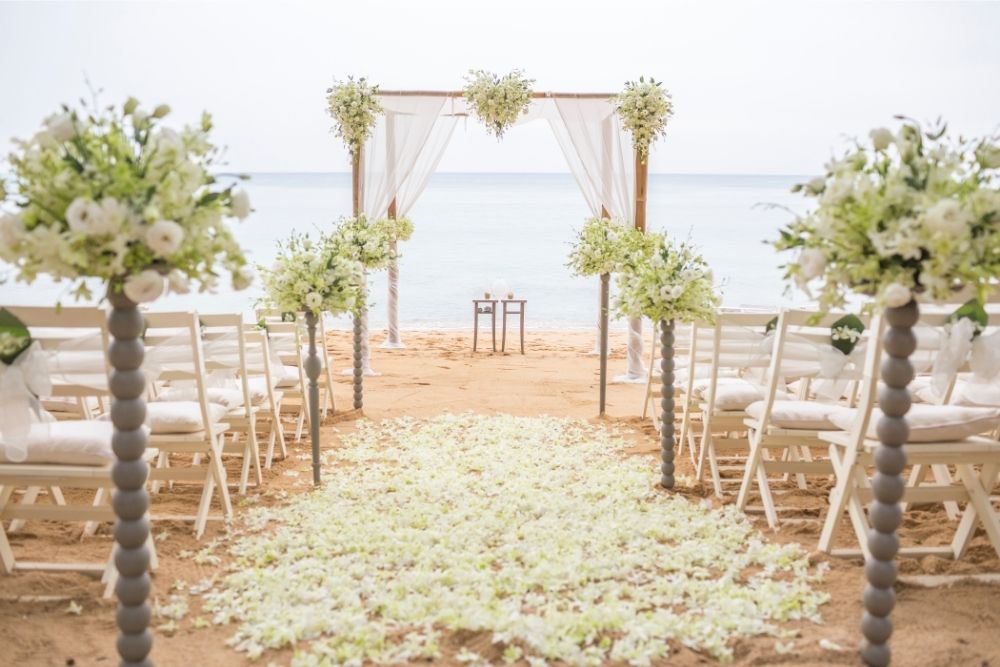 But where is the best place to get married in Daytona Beach? Which venue should you choose for your special day? We have put together a list of the 15 best wedding venues in Daytona Beach to help you narrow down your search. 
The Shores Resort & Spa is an elegant beachfront wedding venue that offers outdoor beach ceremonies as well as indoor receptions.
Whether you want an intimate wedding or a lavish party, the hotel's qualified wedding planners will meet all of your needs. The hotel can host a wedding of up to 400 people, as there is adequate space with the open-air terrace that overlooks the ocean. 
The River Lily Inn is a historic riverfront venue that was built in 1904. It offers bed and breakfast facilities and is able to host weddings of up to 100 guests.
The front lawns make the most of the riverfront views, whereas the lounge rooms create a cosy and intimate atmosphere. There is even a heart-shaped pool, making this the ultimate romantic wedding venue. 
This beautiful venue has 10 acres of land, creating plenty of picture perfect spots for your special day. Within the grounds is a historic chapel built in 1897 complete with a bell tower, where you can have your ceremony. Or you can choose to exchange your vows in the gazebo next to the stunning fountain.
The drinks reception can be held at the cottage, a charming and tranquil 1930's building which looks like it is straight out of a fairytale. It has pretty gardens, a pond, and even a water wheel! 
This stylish beachfront venue has beautiful views across the beach and a variety of indoor and outdoor locations for your wedding.
A terrace with sea views, a private beach, a ballroom- this place has everything you need to create the perfect Daytona Beach wedding. Work with professional caterers and event planners to design your ideal day, with lots of customizable packages to choose from. 
Looking for something a bit different? The museum provides a unique and elegant location for your wedding, and will bring a touch of class to your special day.
They can host weddings of up to 400 people and have their own events planning team to help you. There is an onsite bar and a bridal suite, and they will work alongside outside vendors of your choice. 
The Foxtail estate is an intimate waterfront wedding venue that can host weddings of up to 100 guests.
It has been renovated to a high standard, combining contemporary design with rustic charm to create a unique and original venue. There are picturesque gardens, romantic canopies, and a cosy inn, all providing the perfect backdrop for your special day. 
Channel side is a 4 acre wedding venue surrounded by water, close to Palm Harbour Parkway. It is within one hour of the airport, making it a great choice for couples with family flying in for the wedding.
With beautiful woodland and charming buildings, you can create a storybook wedding at this stunning location. The in-house event planning team will make it even easier for you to plan the perfect wedding. 
This beachfront hotel is a perfect venue for an all-inclusive Daytona Beach Wedding. They can host weddings of up to 2000 guests, but can also create smaller weddings which are just as beautiful. With sea views, a grand ballroom, and a large number of rooms available for guests, it is an excellent choice. 
This stunning lakeside venue is perfect for a grand, lavish wedding. With vaulted ceilings, a ballroom with chandeliers, and floor to ceiling windows to make the most of the tranquil views, you will be able to create an idyllic wedding day here. There is private parking for your guests, a bridal suite, and a lovely mezzanine for cocktails. 
This riverside venus offers beautiful views. It specialises in fine-dining and seafood, making it a great option for any foodie couples who want to wow their guests with a party for their taste buds! 
This oceanfront resort has beautiful lawns, swimming pools, and a tropical ocean view cocktail bar. The staff at Perry's Ocean Edge Resort put the customer at the heart of everything they do, and your wedding will be no exception. 
If big open spaces are your thing, then this 300 acre venue is perfect. It is a working ranch with free-ranging horses and a charming barn where you can host your special day, including a stone hearth fireplace perfect for those all important photographs!
This venue can host up to 300 guests and has a dedicated events planning team to help you. 
The Delamater House is a charming, rustic venue perfect for barn weddings. The beautiful chandeliers will make your first dance super romantic, and the canopy of oak trees provide the perfect backdrop for your photographs. 
This lakeside farm provides a country escape for the perfect rustic wedding. With green fields and a lovely barn you will be able to create a stunning and memorable wedding day. The space is adaptable and can host up to 200 guests. 
This historic building built in 1914 is stunning, with white washed walls and exposed beams. This is a perfect location for a Southern style wedding, romantic and charming.
There is a beautiful bridal suite, and fun options like a whiskey toast, oversized games, and a mimosa bar. Your guests will have a fantastic time celebrating with you at this unique venue.