St. Augustine is a beautiful city on the northeast coast of Florida. It's known for being the oldest city in the US, being founded in 1565.
St. Augustine has a rich Spanish history and has an incredibly old-timey feel to it. The old, Spanish-influenced buildings and quick access to the beach are popular destinations for weddings. After all, it is the oldest city in the US!
In this list, we will give you the best 15 wedding venues in St Augustine to help you on your special day.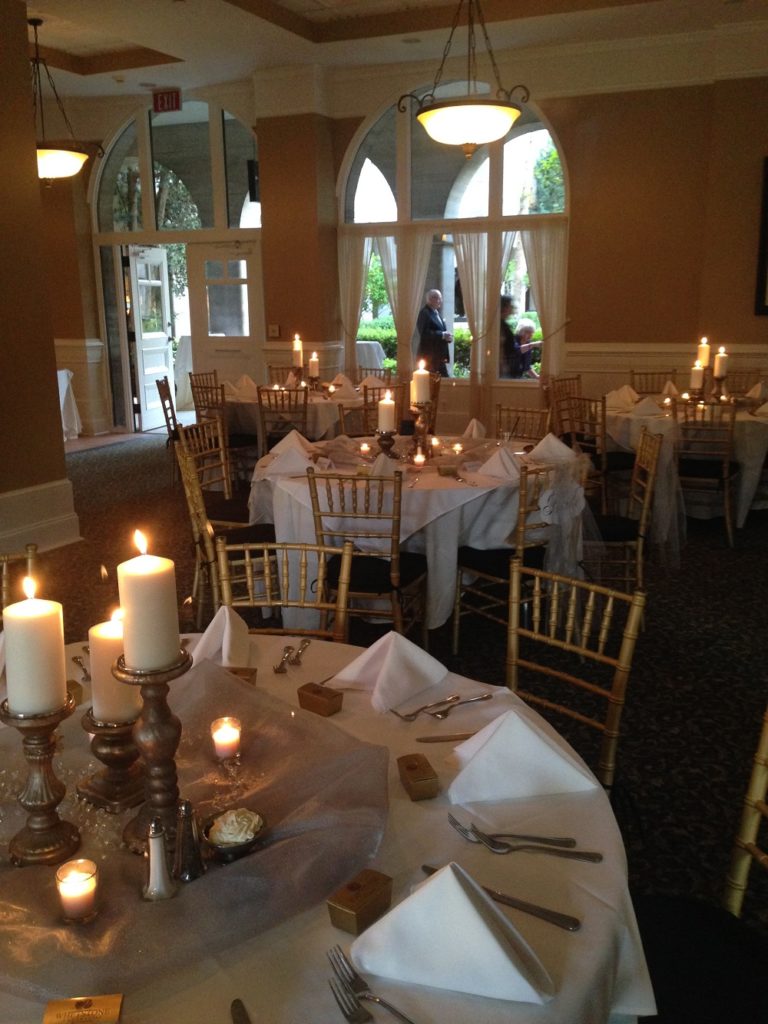 A1A Ale Works is a historic wedding venue in St Augustine, closely attached to a restaurant specializing in fresh seafood.
The venue is luxurious and has two private banquet halls perfect for your special day. The ballroom can comfortably equip 110 guests for weddings. The ballroom is elegant and naturally lit with charming architectural features.
There is also a second event space that can be suited to smaller events of 60 people. The Venue offers a relaxing but professional service, with staff managing everything so that you can have the perfect event with your loved ones.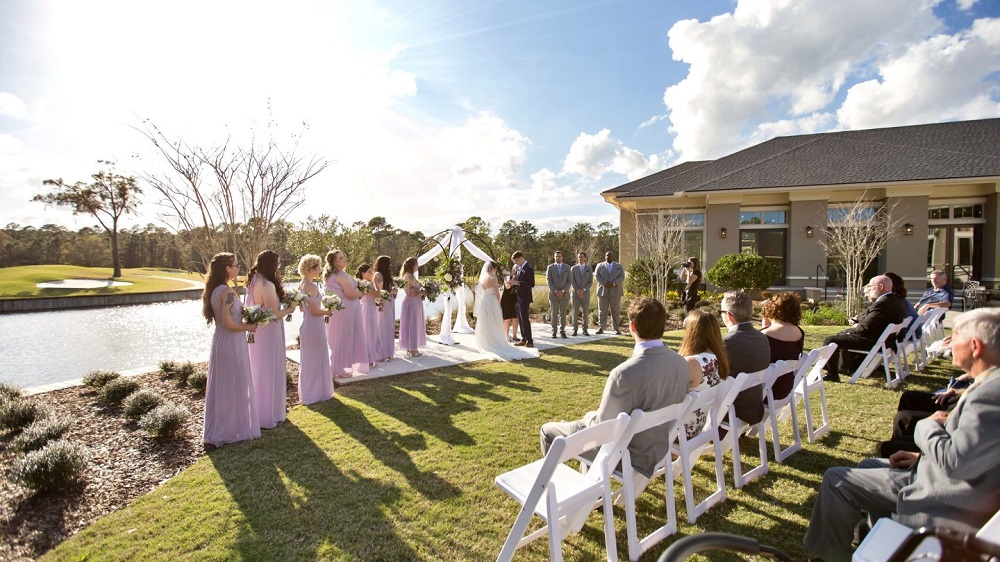 St John's Country Club can hold up to 300 people. It is a newly renovated and large wedding venue placed on a beautiful golf course.
The venue has a unique view of rolling hills and lakes. On your special day, this venue gives couples exclusive access to their Clubhouse, so you will have all the room you need.
There are three events spaces on offer, One being the event lawn which is steps Away From the pond. This beautiful water backdrop creates a peaceful environment for your photography. The newly renovated Clubhouse is perfect for your wedding reception, with floor-to-ceiling windows, barn doors, and cozy decor.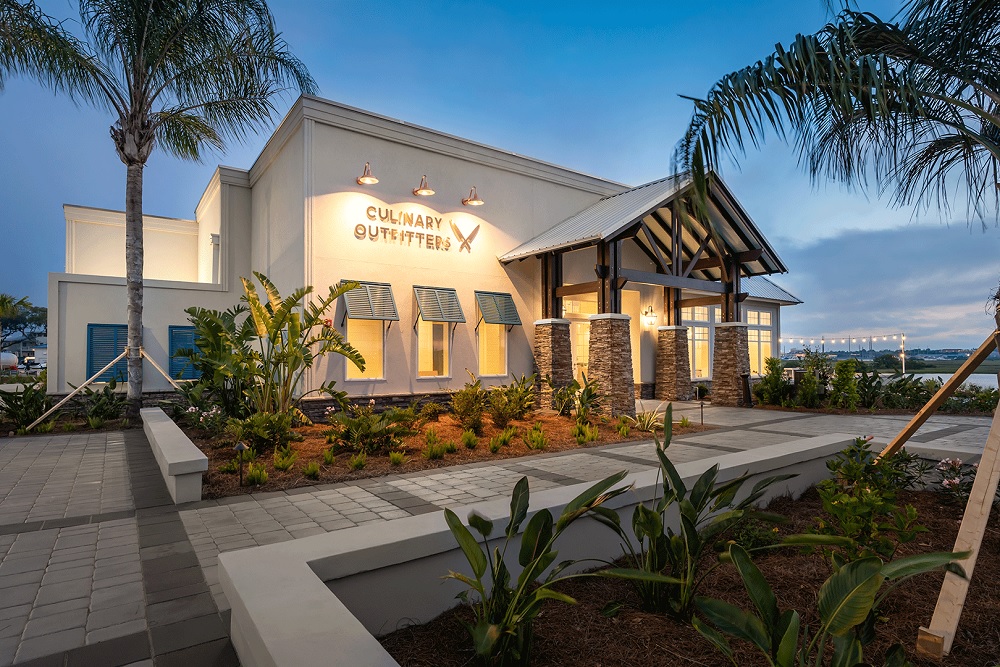 Culinary outfitters is a seafront venue featuring waterfront views with various private places for weddings and other events. The venue has ample parking for guests, rustic decor, and waterway access. It is perfect for those wanting an outdoor wedding, but there is an inside of the venue.
The inside venue features handmade furniture with cozy decor. Their specialty is catering, so your food won't go amiss at this venue.
They are sure to craft a custom menu for you and your guests, and they won the best catering award. It's a perfect place for perfecting your menu for your event and the event itself. What more could you ask for?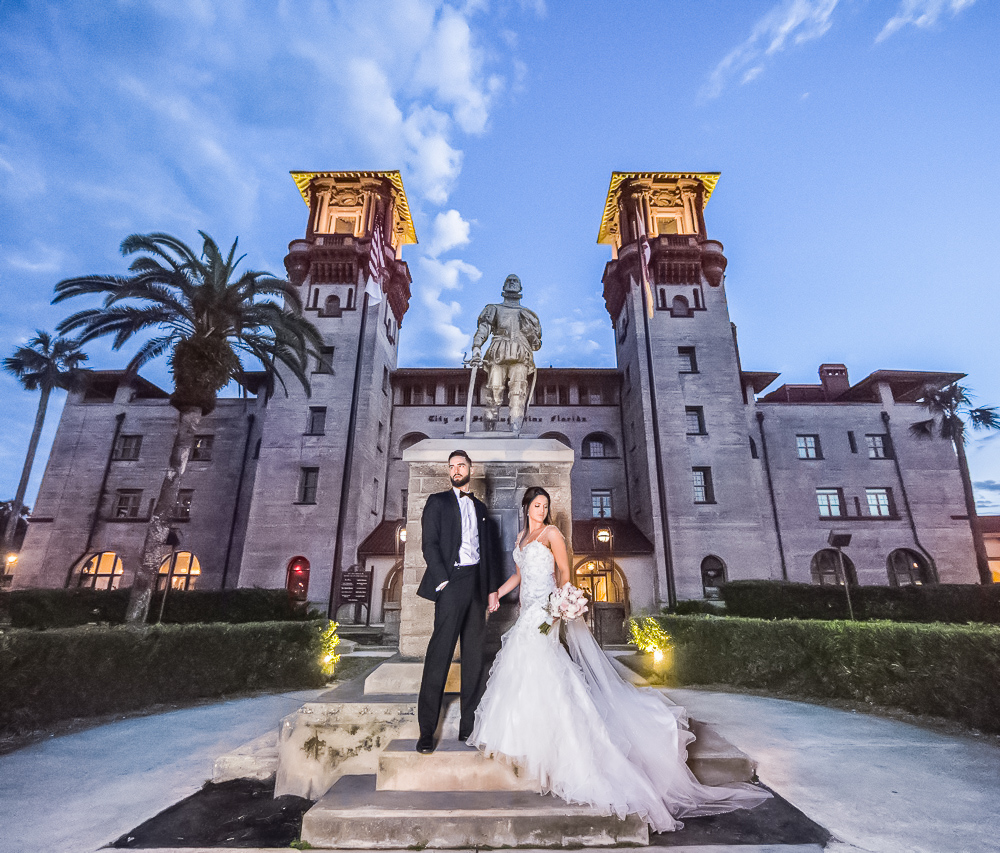 The Lightner Museum is a historic wedding venue in St Augustine. It was built in 1888 as a hotel and casino by railroad tycoon Henry Flagler. This venue has been the place to be for extravagant weddings and unforgettable celebrations.
The decor is white with rustic undertones, creating a glamorous and elegant event. If you're looking for a venue with historical pertinence, this may be the place for you.
The Grand Lobby, in particular, is beautiful and can accommodate 250 guests. It has high ceilings, chandeliers, and mosaic floors and is one of the most versatile and elegant places for your wedding. 
The White Room is a highly sought-after wedding venue on the waterfront in St. Augustine. It is an award-winning venue for full-service private events and wedding venues.
The central part of the venue is a chapel-style room with white wooden beams, hardwood floors, and grand white drapes. The venue can accommodate up to 400 guests, with beautiful waterside views and an elegant backdrop.
All the food for your event is prepared by executive chefs in-house, served to you in minutes; this is something they take pride in.
The venue has several different parts, a ballroom, a loft, a rooftop, and the Villa Blanca. They are all decorated individually and are aesthetically pleasing for you and your guests.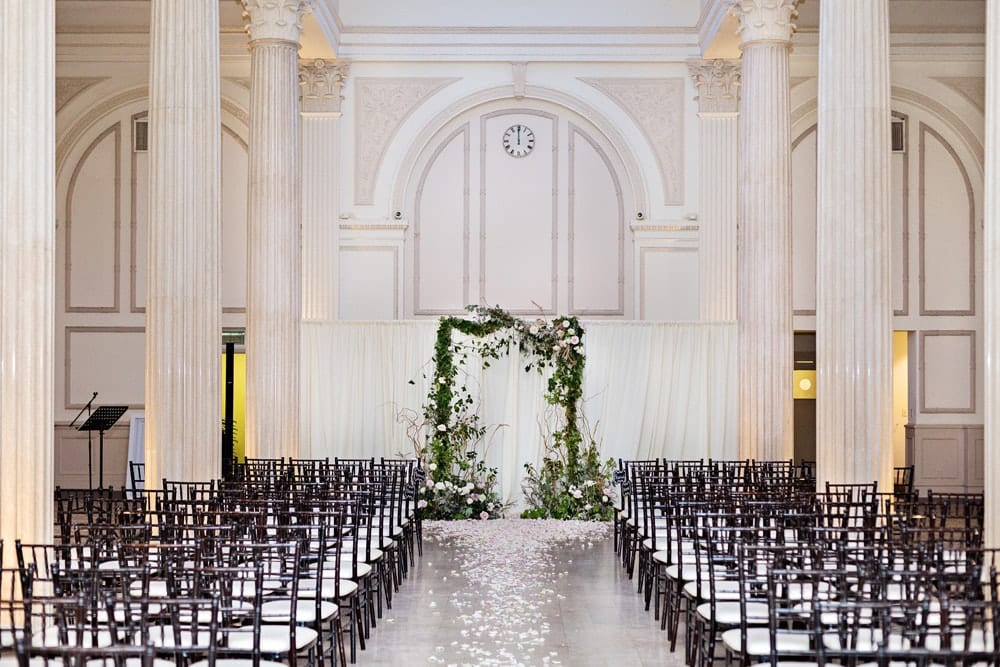 The Treasury on the Plaza is another great choice. The building was a bank in the 1920s, but the space has now been transformed into an elegant venue for weddings and private events.
The venue has a vault bar that hails from the 1920s and has been converted into a speakeasy-style bar, which your guests will love. It's in the middle of the reception space and is something fun and grand for your big day.
The grand ballroom has high ceilings and ornate columns and can accommodate up to 225 guests for ceremonies and banquets. The venue also has a space for cocktails next to the grand ballroom, ensuring an elegant event. 
This venue is an exclusive country club in St. Augustine. It has a charming and Floridian backdrop for your special day. The picturesque sunset views are perfect for formal photographs.
Additionally, golf enthusiasts will appreciate the history of the venue. The venue has 35,000 acres of space, with an impressive 13 different locations within the venue for your event. This includes indoor and outdoor spaces, with an exclusive club and museum oozing vintage charm.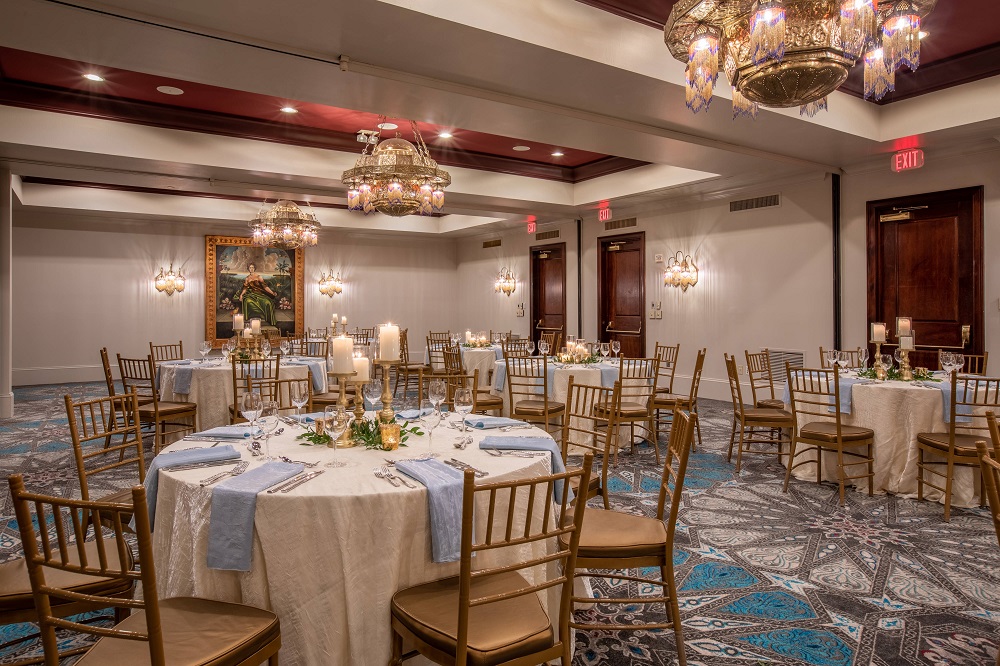 This romantic resort and spa is a beautiful choice for a wedding venue in St. Augustine. The venue is a perfect match for the historical city, with influences of Spanish and Moroccan architecture.
The building was built in 1888 and is beautifully restored, and can hold up to 250 guests. The building has columns, original historical artwork, and bohemian furnishings. This cozy venue is perfect for those who love romance and history.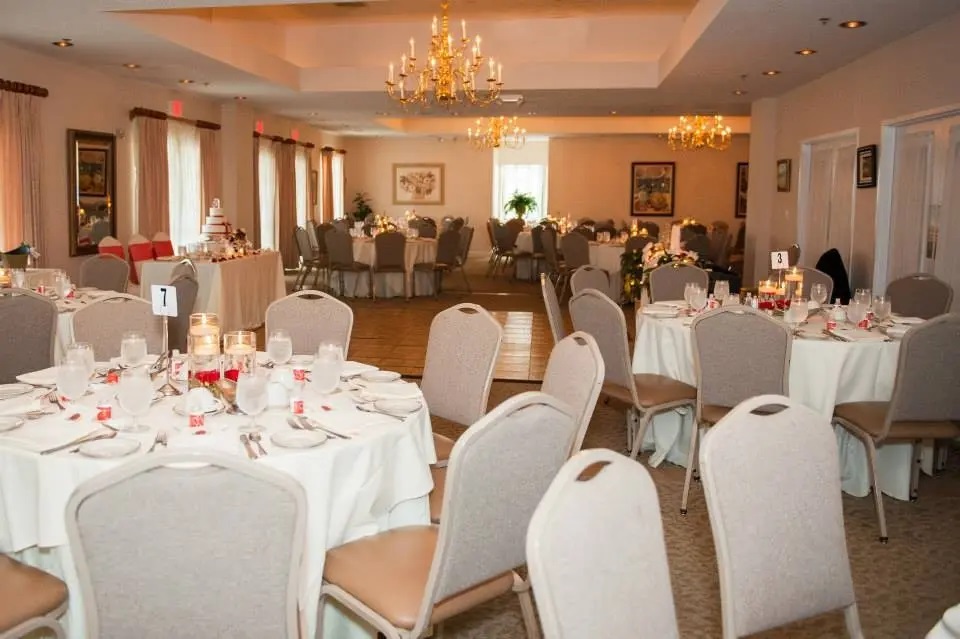 The Milano Room is an elegant venue just a few steps from the beach and is perfect for those desiring a beachfront wedding and a classy venue.
St. Augustine lighthouse is a short distance away too and is a beautiful backdrop. The ballroom is beautifully decorated, with a classic lounge and granite bar. It holds up to 150 people and has private rooms for bridal parties and other events.
The venue offers on-site catering to the highest quality, and the lavish reception room is beautiful for formal meals with your loved ones. 
The Reef Restaurant is another beachfront venue and has a private oceanfront banquet room for your big day. The venue also offers a waterfront ceremony to make your memories and pictures beautiful. This venue is slightly more intimate and can accommodate 75 guests.
The venue also has a bar, dance floor, and two covered balconies. The venue is ordinarily a full-service restaurant, meaning it's perfect for your wedding venue as the food service will be to the highest standard. 
The Hilton in St Augustine is a chain hotel, but one of the best. It's located in the historic downtown area of the city.
The venue offers indoor and outdoor spaces for your event and is located in short distance to some of the best attractions in the city for you and your guests. All this, and it is still only a short distance away from the beach!
Their classic ballroom can accommodate up to 150 guests, and the outdoor courtyard is perfect for outdoor weddings in the Floridian weather. The ballroom also features a balcony that looks onto the infamous Charlotte Street in Downton St Augustine.
The venue offers on-site and off-site catering, meaning if their food does not appeal to you and your guests, you have the freedom to do as you please.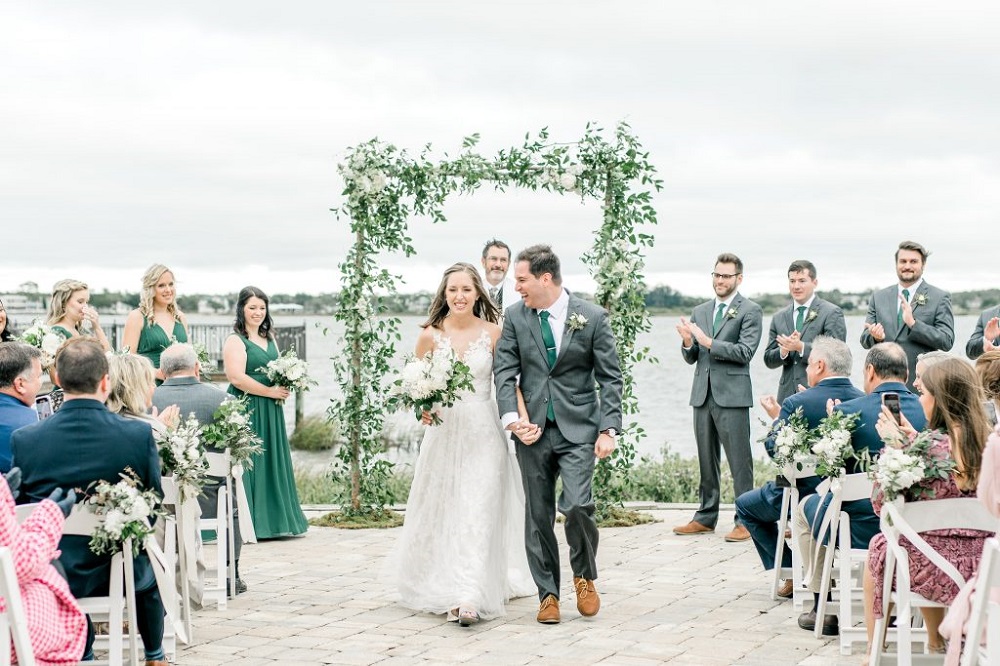 The River House is a waterfront venue in the downtown area of St. Augustine. It's a five-star venue and offers a beautiful view of the Matanzas River as well as the lighthouse. The venue has multiple different settings for your big day, and each has a different feel.
Firstly, the ballroom can accommodate up to 240 guests and has a 32ft dance floor. This ballroom is beautiful and elegant and has french doors along with ivory-cushioned Gold Chiavari chairs!
The river house terrace is also lit for evening ceremonies and has a stunning view of the lighthouse. The library features hardwood floors and a fireplace, giving your classy event a warm and dark atmosphere.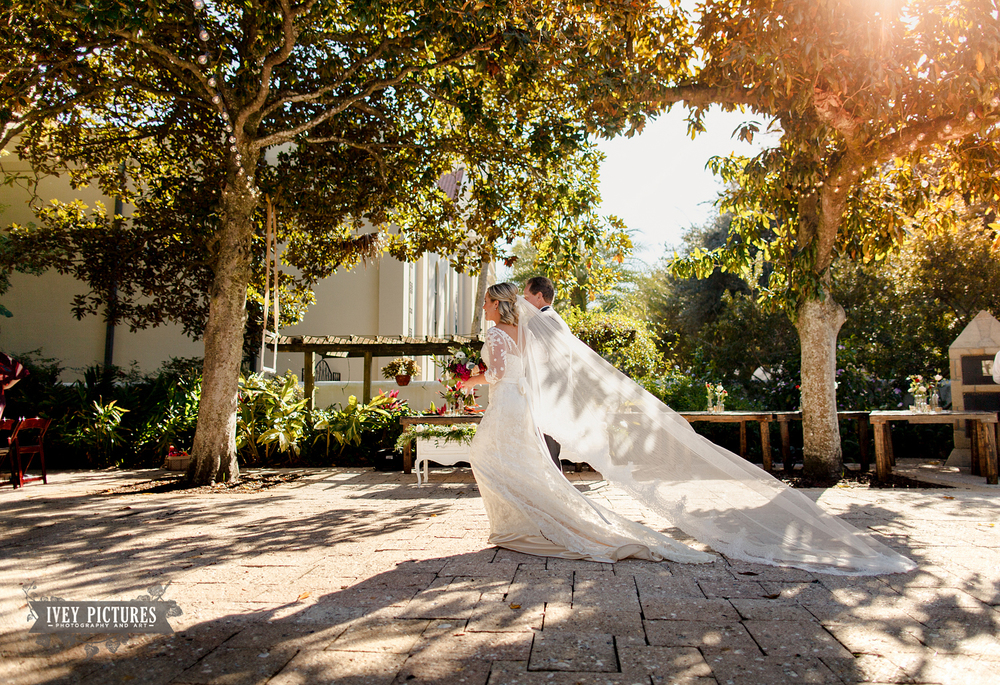 The Peña-peck house is a beautiful venue with a secret garden for a romantic backdrop that can seat up to 125 guests. The house was built in 1750 and has a Spanish feel to it.
The secret garden is the biggest attraction and is truly a beautiful romantic outdoor setting in the Floridian weather. It has lights and lots of plants and enough seats for your ceremony and food banquet to be held outside. The space is intimate and well hidden, perfect for low-key ceremonies. 
Cedar House Inn is a unique wedding venue. It is a 19th-century house, basking in the Floridian sun and coastal city.
The Inn transports you to an elegant time with a nostalgic charm. It was built in 1893 as a private residence but has been converted into a bed and breakfast. It's a luxurious property and perfect for intimate and old-timey events with wrap-around porches and victorian features!
The pavilion and the garden for your event, which offers beautiful exterior places for your wedding ceremony, and the Tiffany Window, which provides romantic and warm settings. 
The Carriage House is a beautiful and rustic barn venue with an enchanting garden and southern-style porch. The venue is 2000sq ft, and the barn gives a real cozy and intimate setting for your special day.
The barn has exposed beams with farmhouse-style furniture. It is the perfect place for a rustic celebration but also perfect for an elegant formal event.
The barn is located in the city's downtown area and is conveniently located next to hotels and restaurants. This venue is gorgeous for those who want to celebrate in small numbers in an intimate setting.