Boca Raton is a beautiful coastal city on the Southeastern coast of Florida, North of Miami. Boca Raton is on the Gulf of Mexico, so naturally, it makes a fantastic wedding venue.
If you're considering a wedding venue in Boca Raton, look no further than this list. Here are 15 of the most beautiful venues in the area. 
The Addison is a classic hotel. According to previous guests, the hotel has fantastic staff and food. The hotel and function room have a prestigious five-diamond award.
There are options to have a small intimate event or extravagant – this location caters to both. The cuisine is award-winning, and the banyan trees on the patio provide a beautiful Floridian atmosphere on your special day.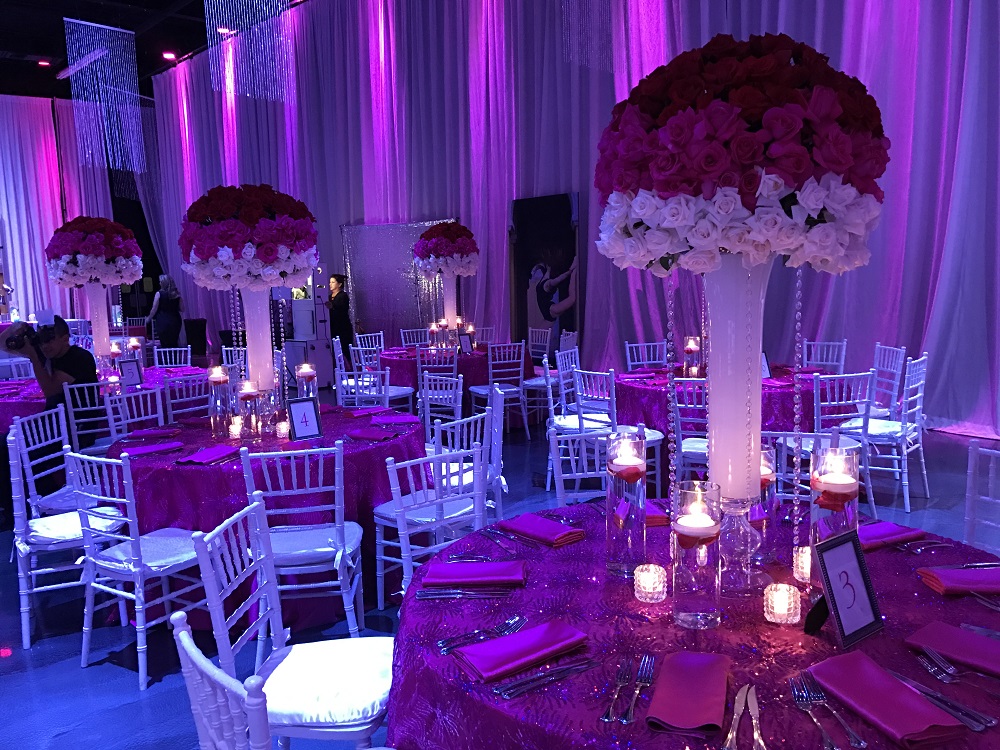 The Loft at Congress is a sleek and classy venue regarded as Boca's most unique party venue. You can hold the most glamorous weddings here, with 5000 square feet of space and 22ft high ceilings.
The venue has an eclectic design, taking inspiration from south beach and Soho designs. This venue is ideal if you want a classy wedding.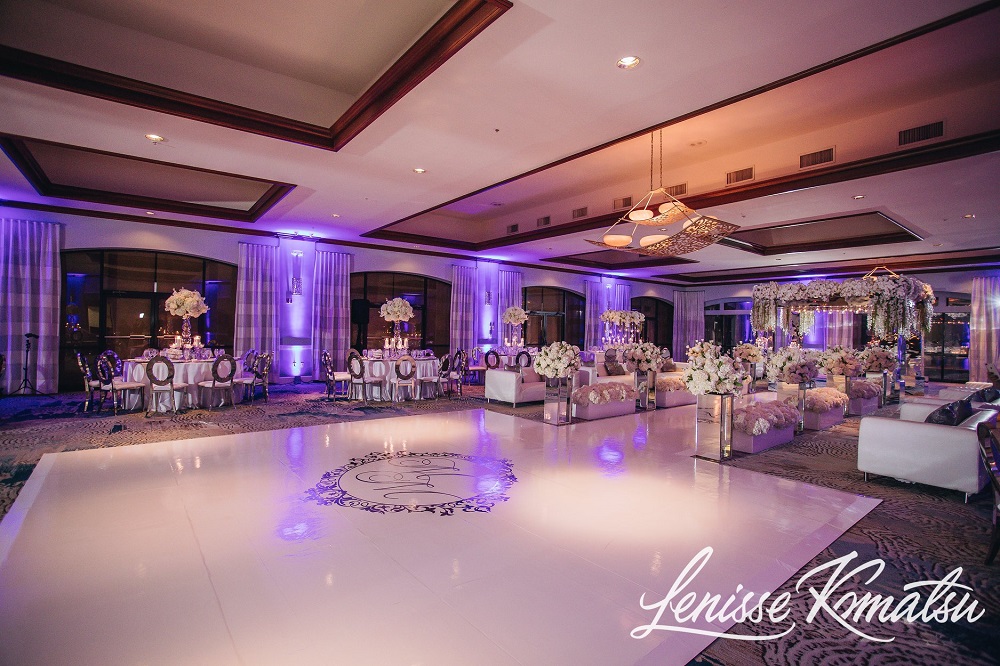 The Club at Boca Pointe is an elegant golf club, but it's a private club, meaning you and your guests will have the best service while being treated like royalty. The beautiful venue looks out onto a dazzling lake, and you can see for acres. The chef here is one of the top chefs in South Florida! 
The Boca Raton Marriott is a chain hotel and venue, but don't let this put you off. It's one of the best-rated hotels, and the Marriott chain is one of the most prestigious hotels. It's a 4-star hotel, with stylish casual features and a bar as well as a large pool.
There is the opportunity to have a small fête wedding and a grand wedding with up to 350 guests. You can have your event indoors or outdoors in their beautiful courtyard.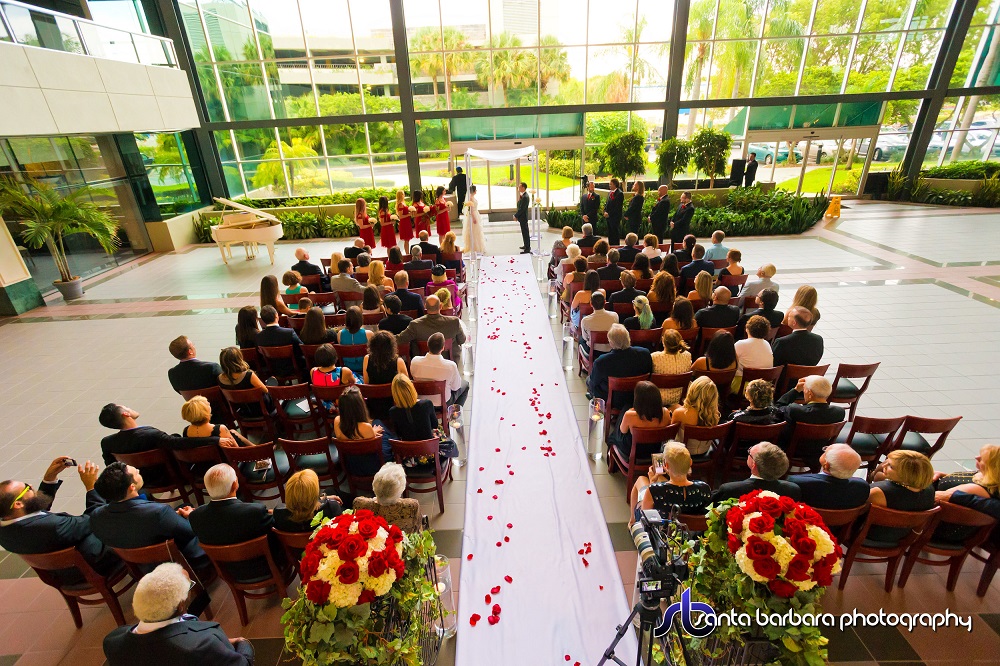 Pavilion Grille is a striking and dramatic atrium with space for live bands. Here, you can dance to your favorite music, from Motown to Jazz.
This venue has traditional Floridian features, such as tropical fountains, palm trees, and a canopy containing a 2,500 sq. ft. dance floor. The venue is famous for big weddings and lively events.  
Boca Dunes is a country club with tasteful decor. The venue is beautifully decorated, inside and outside, with a terrace for the authentic Florida experience.
Packages at this venue include a DJ, Florist, and Photographer included in your event. The venue is classy, with cocktails and hors d'oeuvres served during your wedding. 
Boca Lago is a beautiful Country Club with an enormous lake. The venue has been voted the best for weddings by local brides. There is an experienced chef who serves a wide selection of food and beverages.
The ballroom here has a capacity for 400 guests, with an outdoor terrace. You can have your ceremony inside or on the golf course. 
The Renaissance Hotel is what you might picture from the name. The building and decor have a Mediterranean feel, with classical renaissance features. There is a pool and hot tub on the outside terrace and access to white sands and sun-kissed shores.
The hotel serves gourmet fine dining food from their top chefs. The venue is 20,000 sq. ft and has the capacity for 600 guests! 
The Waterstone resort is a Hilton hotel on the waterfront. It's a 3-star hotel with exquisite decor and 139 guest rooms.
The hotel has a beautiful view of the ocean and is completely beach-inspired. There is a ballroom, and each room has a balcony, perfect for your guests. The hotel is known for its Floridian luxurious experience.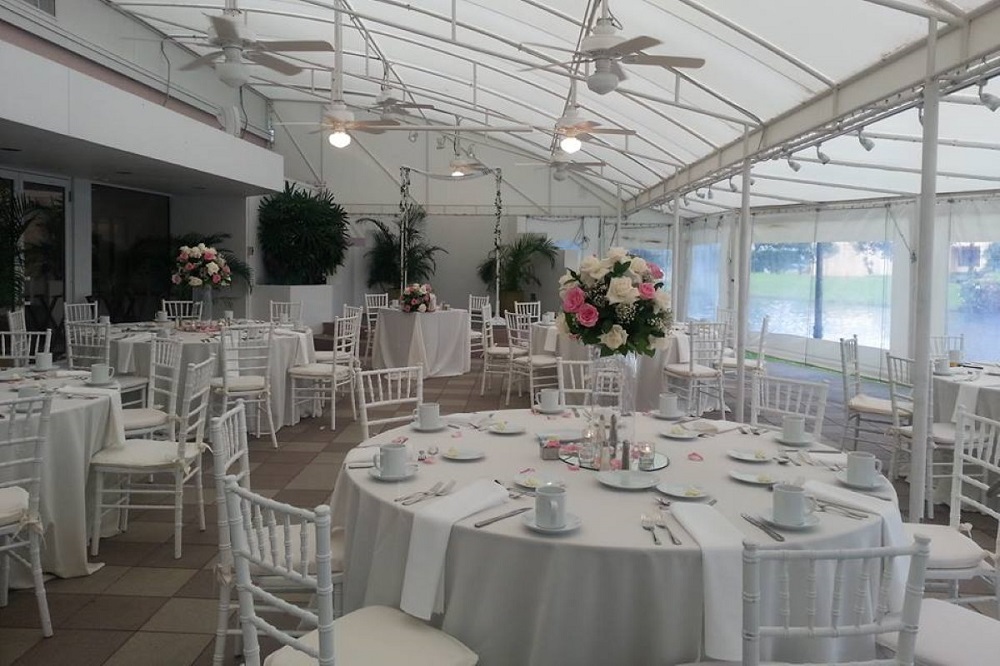 Lakeside Terrace is a gorgeous venue that overlooks a fantastic lake and fountain. The venue has a crystal chandelier and an air-conditioned patio! There are complete event packages available, and it is a fully serviced, private venue. There's no need to be sharing your venue at Lakeside Terrace!
The Chapel of Saint Andrew is an excellent venue for couples who want a small, classic wedding. The venue backs onto a glimmering lake and some beautiful cherry blossom trees. The church has picturesque stained glass and is a perfect choice for a more timeless and authentic ceremony.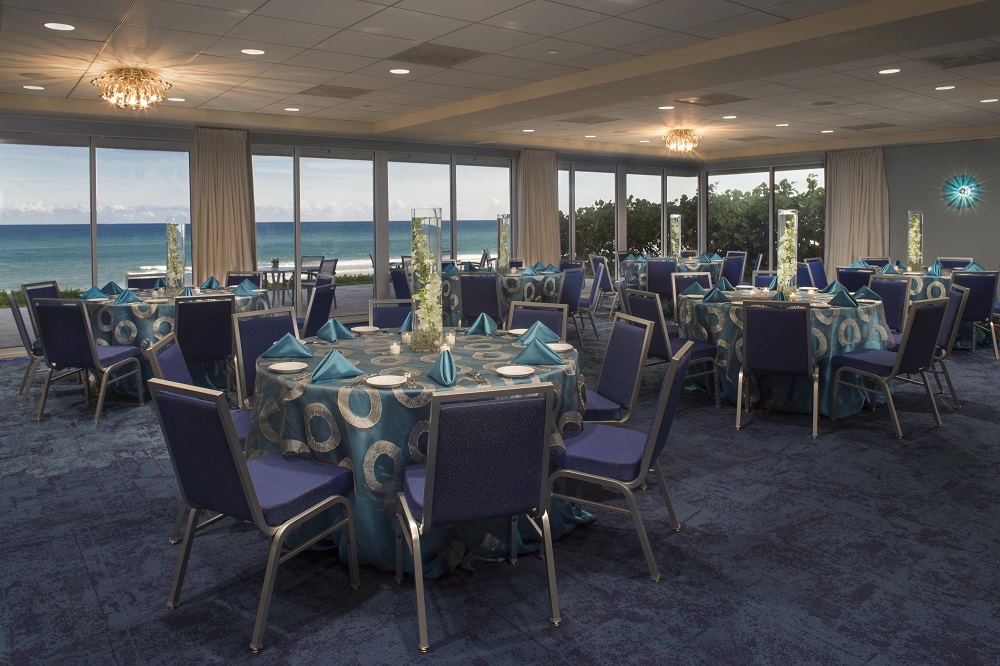 Delray Sands is another beautiful wedding venue. It's a 3-star hotel and is modern and stylish. It is a resort and has a very relaxed feel. There is a private beach for you and your guests, as well as a tropical pool deck and indoor and outdoor terraces. Delray Sands is perfect for beach lovers. 
The Boca Raton is a luxury resort hotel with blissful beachside views. It's a 200-acre resort with a classical, grand look.
There is an opportunity for a 10-course oceanfront dinner as well as four venues within the resort for your wedding: The beach club, the Mizner center, the lakeside Yacht club, and the elegant Cloisters. This venue is a beachside luxury. 
The Polo Club is a luxury country club with huge grounds. It is vibrant and airy and is perfect if you're looking for resort-style luxe on your special day. The decor is minimalist yet elegant, and there are many places on the grounds to celebrate and take photographs.
Red Reef Park is perfect for those on a budget who want a beach wedding. It's next to the beach, with the boardwalk connecting to the white sands. There are beach huts and a nature center, with the opportunity to swim and fish for those more adventurous! It's the perfect inexpensive venue for just the same view.