The barrier island of Santa Rosa running between the coastline and the Gulf of Mexico creates the bay of Pensacola, the western-most city of the Florida panhandle.
As well as being a town rich in history, Pensacola is famous for its beautiful emerald green waters and stunning, scenic views.
This cultural richness combined with the gorgeous scenery makes it the ideal place to host your wedding, and there are plenty of fantastic wedding venues to choose from. Let's take a look at 15 of the best!
Location: 511 South Palafox Street, Pensacola, FL
Contact Info: 850-637-1044
An award-winning venue, 5eleven Palafox Event Hosting is a rustic yet refined venue in the heart of downtown Pensacola. The banquet room is full of natural light and the soft chantilly cream walls and white-washed brick provide a touch of elegance.
It's also home to a stunning courtyard abundant with plants that is a perfect, dreamy location to exchange vows.
Location: 410 South Florida Blanca Street, Pensacola, FL
Contact Info: 850-595-5985
Barkley House is perched atop the Pensacola Bay and was constructed in 1825. The house is shrouded in tall palms and surrounded by bright green grass.
The beautiful views of the bay are the perfect romantic backdrop, and while the house has a cozy, cottagey feel, the wraparound porch is wide enough to accommodate a post-nuptial cocktail hour, and up to 200 guests can be accommodated for a reception dinner.
Location: 200 East Gregory Street, Pensacola, FL
Contact Info: 850-433-3336
Old-world meets new-world in this downtown hotel. The grand ballroom can seat up to 300 guests and has a simple, beautiful color palette of champagne and bronze, meaning when it comes to decorations you can really add your own unique flavor.
There are eight entertainment areas to choose from that can accommodate both small and large weddings.
Location: 300 Tonawanda Drive, Pensacola, FL
Contact Info: 850-332-5073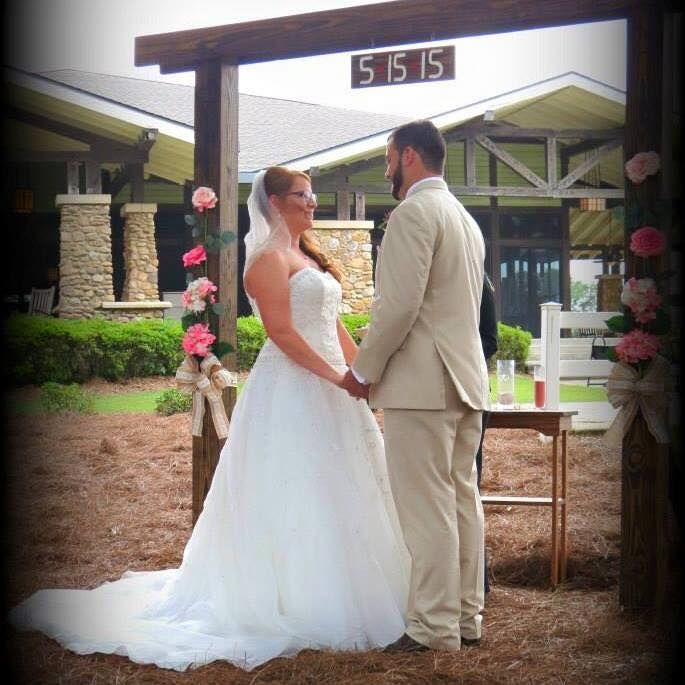 Located on a sprawling green golf course, this venue provides a wealth of scenic ceremony locations. The single story, A-frame style building has windows that soar right up to the ceiling, giving an almost panoramic view of the course. The enormous stone fireplace also makes for a beautiful ceremony backdrop. 
Location: 1144 Airport Boulevard, Pensacola, FL
Contact Info: 850-479-8900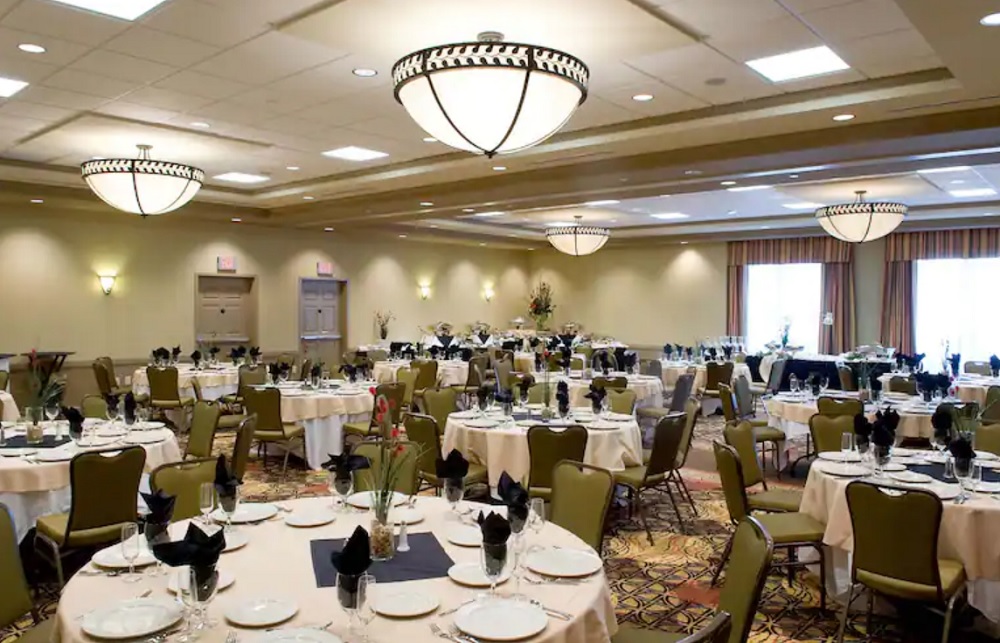 A great choice for couples who want a simple, stripped-back wedding, the Hilton Garden Inn has six banquet spaces to choose from all featuring contemporary, neutral decor. The ballroom is the largest space, and is able to seat up to 200 guests.
It's also located just one mile away from the airport, making it a great option if you have lots of guests flying in! 
Location: 400 Bayfront Parkway, Pensacola, FL
Contact Info: 850-912-8770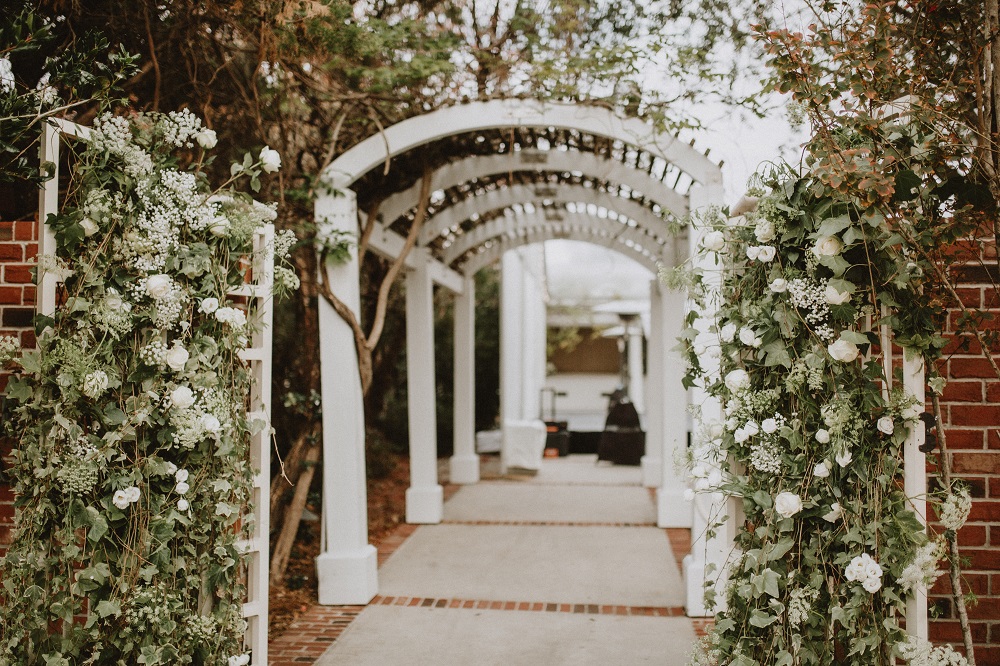 Located in Pensacola's historic district, this venue really showcases the best of southern hospitality. The exterior is a beautiful teal and embraced by a wide wrap-around porch.
There is also an intimate dining room and a large living room that provide a cozy setting for cocktails or a small sit-down reception. The courtyard is a gorgeous location in which to exchange vows, although there is also room for an outdoor pavilion. 
Location: 165 Fort Pickens Road, Pensacola Beach, FL
Contact Info: 850-916-9755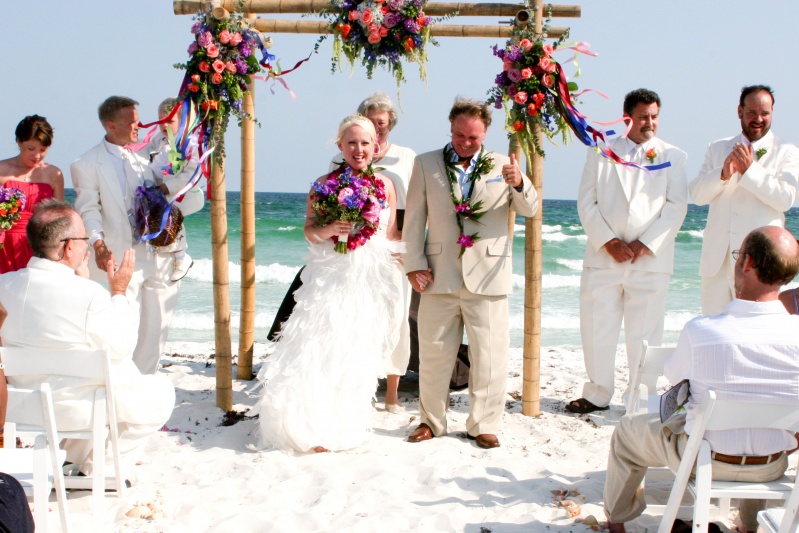 If you're looking for a fun, relaxed wedding venue, you can't go wrong with the Margaritaville Beach Hotel. You can exchange vows with your toes in white sand and the emerald waters of the Gulf of Mexico as a backdrop. For the reception, you can even reserve the entire beach bar which hosts up to 200 guests!
Location: 600 South Palafox Street, Pensacola, FL
Contact Info: 850-434-7736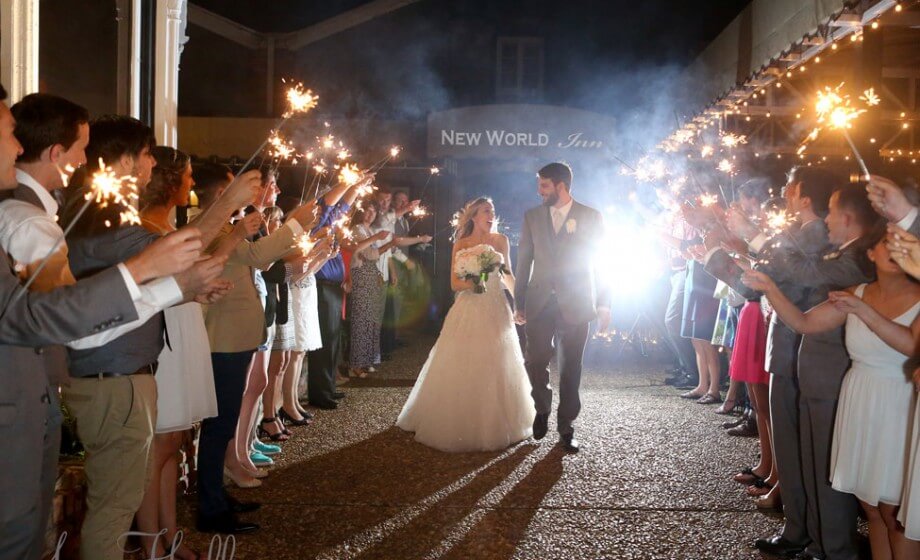 The New World Landing is a boutique inn and wedding venue located downtown and is known for its delicious, varied cuisine. Their wonderfully creative menu includes Greek and gulf inspired seafood, lamb and the best quality meats.
There are seven entertainment areas to choose from, seating between 50 guests to 700 at the grand ballroom. The venue also features a gorgeous courtyard that can seat up to 60 guests for an intimate ceremony.
Location: 1500 Bayshore Drive, Pensacola, FL
Contact Info: 850-455-7364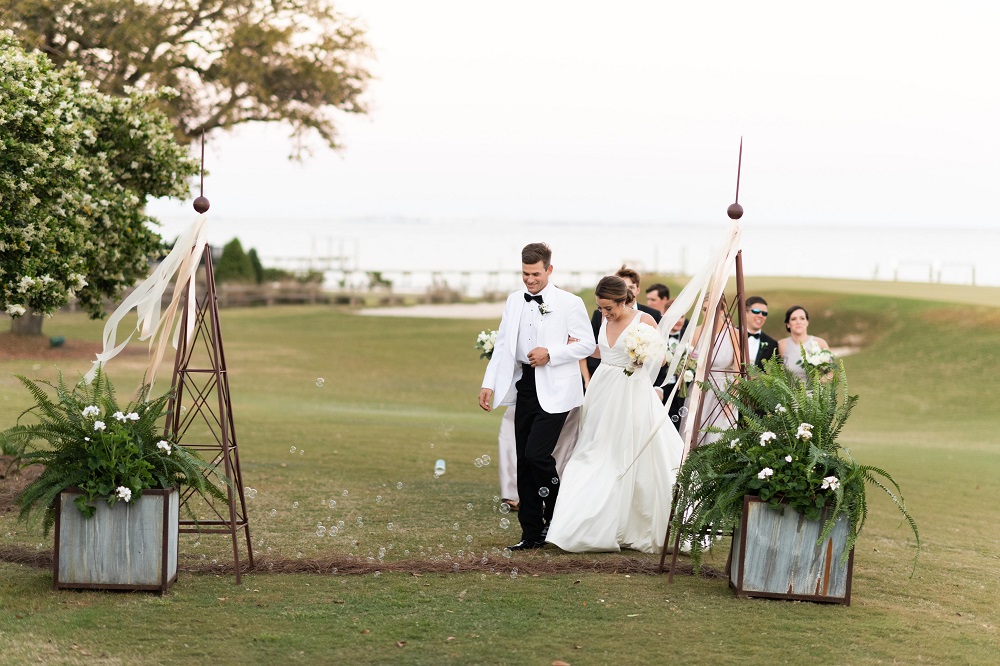 The Pensacola Country Club looks like it's leapt off the pages of The Great Gatsby and is a legendary venue in Pensacola. Say 'I do' under a beautiful, huge live oak, while the stunning grounds and twinkling club mansion are enough to tempt you to have a beautiful reception under the stars – weather permitting of course! 
Location: 375 North Pace Boulevard, Pensacola, FL
Contact Info: 850-332-5974
Another excellent choice for couples dreaming of a simpler, more stripped-back wedding, the Pensacola Improv Event Center has an elegant cream color palette and onsite wedding coordinators with years of experience.
They take care of menu creation, decor, and scheduling logistics so you don't need to sweat the small stuff on your big day.
Location: 1897 Cypress Street, Pensacola, FL
Contact Info: 850-433-8804
With beautiful white wooden planks, royal blue awnings and views of gleaming boats bobbing on the water in the marina, The Pensacola Yacht Club is the perfect place for nautical nuptials!
Ceremonies can be held outdoors on the waterfront lawn or private patio, and the open-air tent pavilion has a clear roof that makes it feel like you're dining under the stars.
Location: 8891 Burning Tree Road, Pensacola, FL
Contact Info: 850-476-0380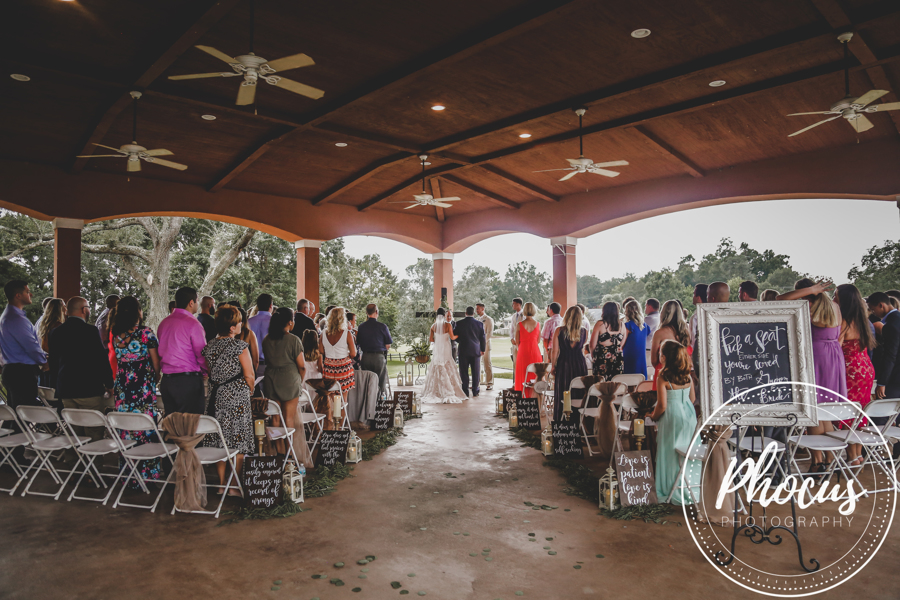 The rolling green fairways decorated with pines and palms provide ample scenic ceremony backdrops at the Scenic Hills Country Club. 
Location: 130 East Government Street, Pensacola, FL
Contact Info: 850-434-6211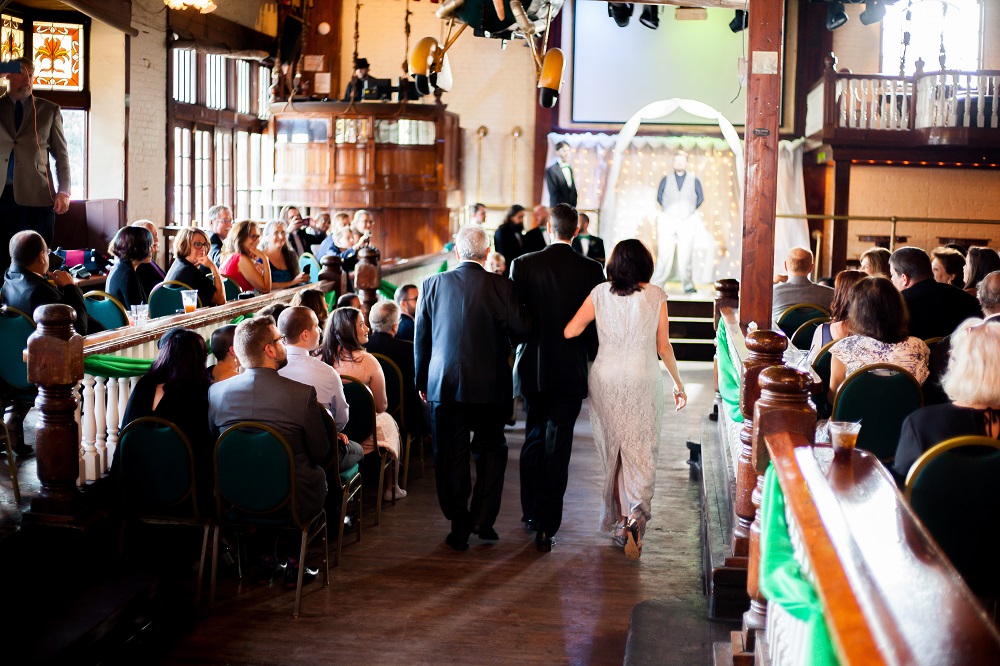 The Seville Quarter is a favorite entertainment venue in Pensacola with a European feel. Couples can choose from seven event spaces to exchange vows, or they can exchange their vows in the intimate courtyard complete with a quaint brick fountain.
Location: 1850 North 9th Avenue, Pensacola, FL
Contact Info: 850-432-6095
Yet another great venue for a simpler, more rustic wedding this venue is located in East Hill, and is a single-story, colonial style property nestled in the woods, surrounded by tall pines and a neatly kept lawn.
The venue also features a brick facade, front entrance columns and a decently sized patio. The interior of the house is simple with neutral-colored walls, polished concrete floors and wide French doors.
Location: 196 North Palafox Street, Pensacola, FL
Contact Info: 850-433-9450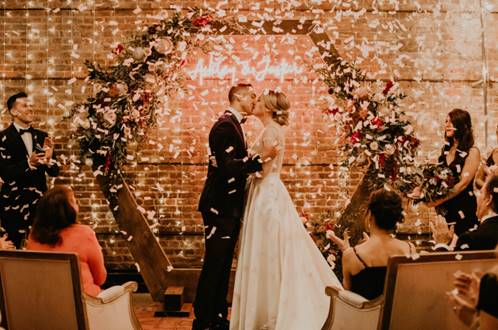 Palafox House is an architectural gem of Pensacola's historical district and was originally constructed in 1912. The building boasts huge twenty-foot ceilings and two-story windows that provide a panoramic view of the tree lined park.
The house also contains charming wrought iron chandeliers, and a large chalkboard over the built-in bar that is a great place to make fun announcements and detail the itinerary of your special day!